Renowned Ngāpuhi doctor announced as Deputy Dean
Associate Professor Matire Harwood, a tireless advocate for Māori health, will be taking up the role of Deputy Dean of the Faculty of Medical and Health Sciences in January 2024.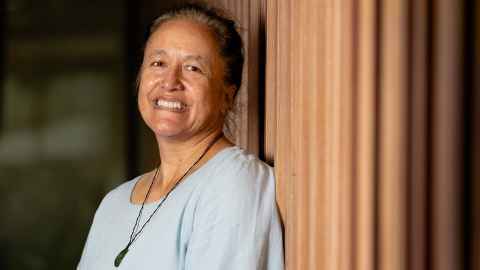 Associate Professor Matire Harwood (Ngāpuhi, Ngāti Hine, Ngāti Rangi ki Moerewa) is well known to the Faculty of Medical and Health Sciences. In January 2024, she will take up the role of Deputy Dean of the faculty.
Matire previously worked in Te Kupenga Hauora Māori and is currently Head of the Department of General Practice and Primary Healthcare.
Outside of the University, Matire is a tireless advocate for Māori health, particularly in south Auckland where she delivers interprofessional, evidenced-based primary care in Papakura marae.
Her community health and academic worlds complement each other and allow her to draw on her involvement in the Papakura community, to boost her passion to teach, learn and give back to Māori.
During the pandemic, Matire was influential in shaping policy, providing strategic advice to the Government, in addition to delivering clinical care and teaching opportunities as a GP in South Auckland, aligning with Te Tiriti principles of active protection, equity, and options.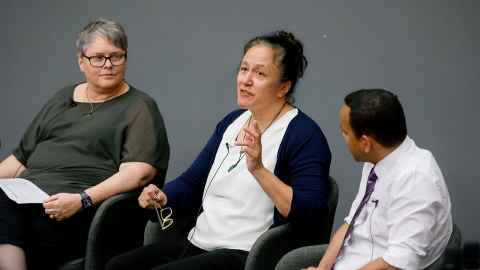 She continues to provide national leadership as a member of the Hauora Māori Advisory Committee to the Minister of Health.
Matire has an extensive publication record and has been very successful at securing research grants. This has culminated in being recognised for her excellence in research and research supervision with several awards, this year being awarded a Butland Teaching Award for Excellence in Research Supervision.
In July 2022, she was awarded the prestigious Community Service Medal from the Royal New Zealand College of GPs for her services to Māori hauora during the pandemic.
Her research interests include asthma, heart disease and diabetes.
Matire is co-chair of the Performance Based Research Fund panel (Medicine) for the Tertiary Education Commission 2026 assessment, and co-chair of Te Whatu Ora's Clinical Research steering group.
"Matire brings significant experience in leadership and governance within the University, the broader health sector, and the community," says Professor Warwick Bagg, Acting Dean of the Faculty Medical and Health Sciences.
"I look forward to working with Matire to provide a mana-enhancing work environment where students and colleagues thrive."
Media contact
Te Rina Triponel | Kaitohutohu Pāpāho Māori
E: te.rina.triponel@auckland.ac.nz