Human rights scholar wins top Royal Society award
Human rights and sustainability researcher Dr Maria Armoudian from Waipapa Taumata Rau, University of Auckland has won the Royal Society Te Apārangi Early Career Research Excellence Award for Social Sciences.
Dr Maria Armoudian, a senior lecturer in Politics and International Relations in the Faculty of Arts, has won the prestigious Early Career Excellence Award for Social Sciences from the Royal Society Te Apārangi.
The award acknowledges Dr Armoudian's research, leadership and mentoring work to advance the interconnected goals of sustainability, human rights and good governance.
The Royal Society's commendation says her third book, Lawyers Beyond Borders: Advancing International Human Rights through Local Laws & Courts (University of Michigan Press, 2021), "represents the definitive work on the inception and development of a global movement to redress survivors of egregious human rights violations, such as genocide and torture."
Based on court records, government, NGO and media reports, as well as interviews with advocates and survivors, Lawyers Beyond Borders examines the 40-year pursuit to redress and restore human rights for those the international legal-political systems have failed.
The book also highlights efforts to build new pathways to justice, using human ingenuity, ideas and creative advocacy, says Dr Armoudian.
"Although the international justice system has failed the millions who need it most, namely, those who have suffered the gravest violations, Lawyers Beyond Borders shows how through ideas and creativity, and despite limited budgets compared to their powerful opponents in many cases, committed advocates are helping repair the damage."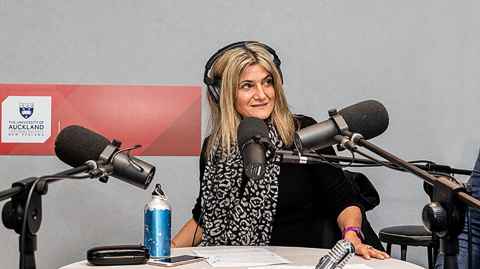 She says that despite the harrowing details of torture and injustice she had to listen to in the process of writing the book, the lawyers and cases it illuminates offer some hope in addressing some of the most difficult problems of our time, including unlawful imprisonment, torture, displacement and environmental degradation.
"And with rising authoritarianism, record levels of violent conflict and climate change, solving the injustice crises is more urgent than ever," she believes.
Such is the interest in the work that eight of Dr Armoudian's recent international and national conference presentations involved findings and analysis from the book: including at the Midwest Political Science Association, Australasian American Studies Association, International Studies Association, and Western Political Science Association.
Following its publication, she was also invited to join the advisory board of the international legal Center for Truth and Justice, and to become a co-director of the University of Auckland's flagship research centre, Ngā Ara Whetū for Climate, Biodiversity and Society.
 
As the granddaughter of Armenian genocide survivors who lost everything – brothers, sisters, aunts, uncles, friends, indigenous lands, homes, and everything except for the clothes on their backs – she is profoundly grateful to the Royal Society for acknowledging her work to support others who are suffering similar fates.
"Some have the world's attention, so many do not, such as the Armenians in Artsakh/Nagorno Karabakh. I'm deeply thankful to my friends, family, colleagues, and community who have supported me in my darkest hours. I owe them everything, including my continued existence.
"I will use this award to continue advancing the interlinked goals of human rights, sustainability and good governance. I dedicate it to all survivors of genocide, torture, ethnic cleansing and dispossession of their indigenous lands, homes, and communities, and to all lawyers, journalists, activists and scholars working to remedy grave injustices.
"As one person on a very large, dispersed international team, I will continue to work for your redress and recovery."
 
I dedicate [this award] to all survivors of genocide, torture, ethnic cleansing and dispossession of their indigenous lands, homes, and communities, and to all lawyers, journalists, activists and scholars working to remedy grave injustices.
Other works by Dr Armoudian include Kill the Messenger: The Media's Role in the Fate of the World (Prometheus Books, 2011) and Reporting from the Danger Zone: Frontline Journalists, Their Jobs, and Increasingly Perilous Future (Routledge, 2016).
She is the host and producer of the Scholar's Circle podcast and a regular media commentator and opinion piece writer for New Zealand and international publications, including The Washington Post, The New York Times syndicate, the Los Angeles Times syndicate and the Colombia Journalism Review.
She is also a radio broadcaster, musician and former journalist who worked as both a city commissioner in Los Angeles for six years and the California State Legislature for eight.
The Early Career Research Excellence Award for Social Sciences is awarded annually for the encouragement of early career researchers currently based in New Zealand for social sciences research in New Zealand.