Rhodes to success: students head to Oxford
Rhodes Scholarship recipients Karan Kalsi and Frances Wright are set to undertake postgraduate studies at Oxford.
Two exceptional University of Auckland students will soon make Oxford their stomping ground as they prepare to embark on postgraduate studies there, thanks to the world's oldest international scholarship programme.
Bachelor of Laws (Hons) student Karan Kalsi and conjoint Bachelor of Arts and Bachelor of Fine Arts student Frances Wright will embark on postgraduate studies at the University of Oxford after they were awarded Rhodes scholarships this week.
Frances plans to study a Masters in History of Art and Visual Culture, as well as a Master of Fine Art at The Ruskin School of Art, while Karan will undertake a Master of Philosophy in Politics (Comparative Government).
The MPhil at Oxford offers courses on the comparative political economy of advanced democracies, which, Karan says, align with his interests.
"Many of humanity's pressing challenges stem from an erosion in the quality of our public institutions. I intend to play a part in reversing this threat at home and abroad through leading evidence-based policy reform that strengthens institutions' ability to serve the public good."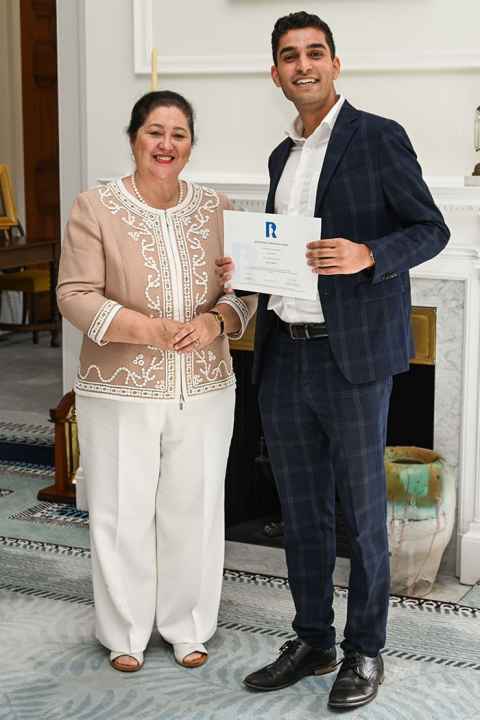 As well as his exciting new Oxford opportunity, Karan, who is currently minoring in politics, international relations, and French, is also a recipient of a University of Auckland Top Achievers Scholarship, was named on the Dean's Honours List, and received the Desmond Lewis Memorial Prize for a top undergraduate student in International Law.
Karan grew up in Auckland, where his positive experiences of the social institutions that supported him during his youth have steered him towards work in public policy and advocating for people who are struggling.
The 24-year-old's referees describe him as a student who has brought "kindness, compassion, curiosity and humility to his learning."
Meanwhile, Frances Wright, who's from Wellington, is described by mentors as a "highly ambitious, technically adept, deep-thinking creative" with "proven leadership abilities and depth of character."
The 23-year-old is looking forward to the challenges of the Oxford curriculum.
"In postgraduate study at Oxford, I intend to invest in and expand the criticality of my work in an international setting as I learn to further analyse and synthesise the complexity of contemporary visual culture."
After oscillating between whether to pursue the sciences or creative arts as an undergraduate, Frances settled on the latter.
"I have always lived in a thick and weighty world: this is my reality as an artist. I tried to ignore it for some time, opting for paths in science and business. While my head guaranteed success down these roads, my heart was wandering by the wayside. Often, our loved ones see us more clearly than we do ourselves, so when art practice became my focus, close voices began to whisper yes, Frances, finally - home."
Frances' stellar academic record of achievement has been augmented by her involvement in volunteering and leadership roles in broadcasting and visual arts. She is host and founder of 'Various Artists' on campus radio 95bFM, has hosted and produced 'The Wire', and been a journalist for various current affairs segments.
Born from a desire to reinvigorate the school learning environment at the Elam School of Fine Arts after the effects of successive Covid lockdowns, Frances also established and is president of the Fine Arts Students' Association.
In 2023, one other student was awarded the prestigious scholarship – 23-year-old Isaac Heron, from Wellington, who recently completed a BSc in Economics and Genetics at the University of Otago, where he will also soon complete a Bachelor of Laws (Hons). At the University of Oxford, Isaac will study for a Master of Philosophy in Economics.
The scholarship selection panel, which in New Zealand is chaired by Governor-General Her Excellency The Right Honourable Dame Cindy Kiro, seeks young people with proven academic excellence who also show exceptional character, leadership, and commitment to solving humanity's challenges.
This year, Dame Cindy congratulated the winners, saying, "Isaac, Karan, and Frances' academic achievements and service to their communities have already made a deep impact on the lives of many people. I have no doubt these three extraordinary young New Zealanders will continue to make significant contributions as future leaders of our country."
Established in 1903, the Rhodes Scholarship is the oldest international scholarship programme, bringing outstanding young people from around the world to study at the University of Oxford.
Read more about the Rhodes Scholarship.