Accommodation Orientation Week 2022: A chance to get your bearings and build friendships
From togas and treks to scavenger hunts and speed greetings, it was an O'Week a little different to any other but one which highlighted the resourcefulness and resilience of Accommodation residents and staff.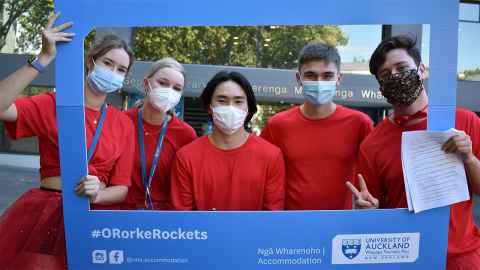 O'Week is key to the residential experience for students living in Ngā Wharenoho |Accommodation. It helps them start the year on the right foot and take full advantage of the many benefits from living with us. This is a crucial time in helping new kainoho | residents transition better to University life both academically and personally.  
Over the years, kainoho have echoed this with statements such as "the best aspect of my University of Auckland experience was easily the halls of residence. You make so many friends, and helpful study groups. You never feel alone." In fact we have found that school leaver kainoho are 20% more likely to have A-grades then non-resident school leavers and a 3% higher pass rate.  
While this year the Omicron outbreak across Aotearoa coincided with O'Week, our staff were committed to ensuring new kainoho received the many benefits of an active O Week.  
Catered halls, which are mostly made up of first year school leavers, started off with scavenger hunts, quiz nights, hall-wide battles, and speed greetings. These helped kainoho get to know the campus as they completed the scavenger tasks and collaborated on challenges with new people. 
Self-catered residences are made of properties with studios or flats where older undergraduate, postgraduate, and PhD students usually reside. Some flats are also set up for families to reside together! These residences held BBQs, Flatting 101 sessions, and hikes up Maungawhau | Mt. Eden for more casual bonding experiences. 
While the sought-after Toga Night and Halls Day Out events had to be cancelled due to Covid-19 restrictions, some of the halls held their own Greek Night-In. Kainoho got dressed up in their finest white linens, while staff decorated the common spaces.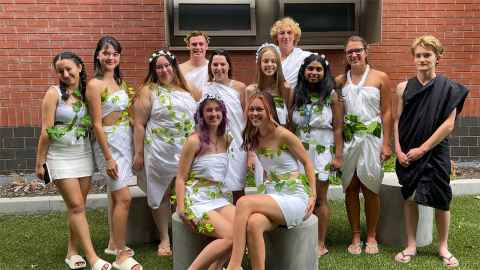 With some adjustments and inventive problem-solving from Accommodation staff, kainoho across eight halls and residences were able to create their new whānau away from home. As teaching is largely being held online for the first half of the semester, these events were especially important to giving them a head start to the 2022 academic year.