There's plenty of variety when it comes to food and drink at the University of Auckland.
Feedback
We are committed to ensuring customer satisfaction through the range, convenience and quality of retail stores and services on campus.
To help us continue improving, your feedback and comments are always welcome. Please email retail@auckland.ac.nz to tell us what you think.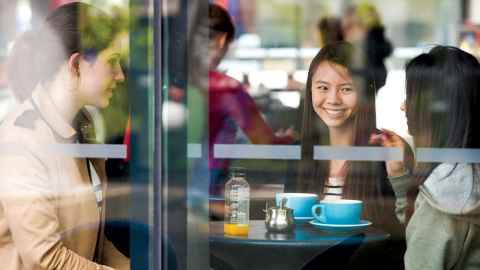 Vending
The University has rolled out a pioneering vending solution available 24/7. Refrigerated, fresh food and dairy machines sit prominently around all campuses. The machines offer up to 54 different choices of healthy and indulgent snacks and beverages, at a competitive price and all without having to leave campus.
City Campus
Student Quad, 34 Princes St
Outlet
Semester hours
Holiday hours
Barilla
Mon-Fri 9am-7.30pm
Mon-Fri 9am-4pm
Hello Chinese
Mon-Fri 9am-7pm
Mon-Fri 9am-4pm

Gong Cha
Mon-Fri 9am-7pm
Sat 10am-3pm

Mon-Fri 10am-6pm
Hollywood Bakery
Mon-Fri 7.30am-5pm
Mon-Fri 8am-4pm
Jewel of India
Mon-Fri 9am-7pm
Sat 10am-3pm

Mon-Fri 9am-5pm
Sat 10am-3pm

Tank Juice Bar
Mon-Fri 8am-7pm
Sat-Sun 9am-5pm

Mon-Fri 8am-7pm
Sat-Sun 9am-5pm

Uni Sushi
Mon-Fri 9am-7pm
Mon-Fri 9am-4pm
Kate Edger Information Commons, 11 Symonds St
Outlet
Semester hours
Holiday hours
Got Pasta
Mon-Fri 11am-7.30pm
Mon-Fri 11am-3.30pm
Munchy Mart
(Level 0)

Mon-Thu 7.30am-10pm
Fri 7.30am-9pm
Sat-Sun 9am-6pm

Mon-Fri 7.30am-5pm

Shaky Isles Coffee Co.
Mon-Tue 7.30am-6pm
Wed-Thu 7.30am-7pm
Fri 7.30am-6pm
Sat 9am-4pm

Mon-Fri 8am-4pm
Strata Café
(Level 4)

Mon-Fri 7.30am-5pm
Mon-Fri 8am-4pm
The Taco Joint (by Mexicali)
Mon-Fri 10am-6pm
Mon-Fri 10am-3.30pm
Arts Quad (formerly HSB Courtyard), 10 Symonds St
| Outlet | Semester hours | Holiday hours |
| --- | --- | --- |
| Mojo Coffee | Mon-Fri 7.30am-5pm | Mon-Fri 8am-4pm |
| Ha!Poke | Mon-Fri 8am-6pm | Mon-Fri 8am-6pm |
Bars
| Outlet | Hours | Location |
| --- | --- | --- |
| Shadows Bar | | Coming soon in February 2020! |
Faculty outlets
Outlet
Hours
Location
The Deli
Mon-Fri 7am-6pm
Holiday hours: 8am-3pm

OGGB - Level 1
12 Grafton Road

Strata Café
Faculty of Law

Mon-Fri 7.30am-3.30pm
Holiday hours: closed

Law Building
9 Eden Crescent
Shaky Isles Coffee Kiosk
Mon-Fri 8am-4pm
Holiday hours: 9am-3pm

Engineering Building
20 Symonds St

Epsom Campus
Retail Outlet
Hours
Location
Epsom Café
Mon-Fri 7.30am-3pm
Semester break: 8am-4pm

74 Epsom Avenue
Grafton Campus
Retail Outlet
Hours
Location
Superfino Café

Mon-Thu 7.30am-6pm*
Fri 7.30am-7pm

*5pm close during holidays


85 Park Rd, Grafton
Tāmaki Campus
| Retail outlet | Hours | Location |
| --- | --- | --- |
| Café Aurora | Mon-Fri 7.30am-4pm | 261 Morrin Road, St Johns |