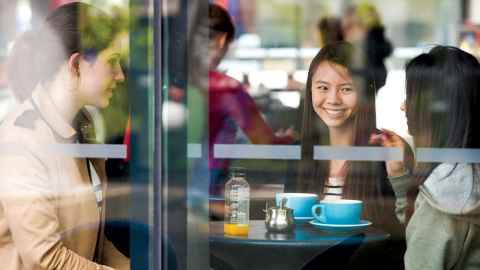 Vending
The University has rolled out a pioneering vending solution available 24/7. Refrigerated, fresh food and dairy machines sit prominently around all campuses. The machines offer up to 54 different choices of healthy and indulgent snacks and beverages, at a competitive price and all without having to leave campus.
Retail vouchers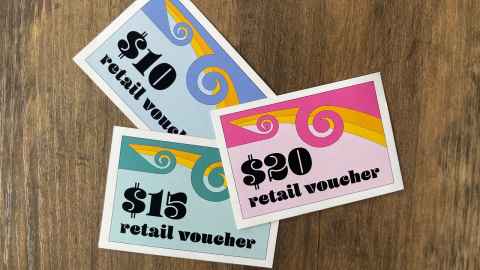 If you are running an event and looking for some prizes, or simply want to provide your group with a way to try out a new lunch option on campus, the University's retail team now have retail vouchers available to purchase. These are available from the Campus Store, located in the Quad. Speak to staff to find out more.
These vouchers are available in $10, $15, and $20 variations. They can be redeemed at all our on campus retails, including Shadows bar, and non-food and beverage retailers like Unichem pharmacy and Ubiq.
City Campus
Student Quad, 34 Princes St
Outlet
Opening hours
Dietary options
Chi Chop

Outside semester Hours (includes Summer school): Monday to Friday: 9am-8pm / Saturday: 9am-3pm

Semester 1: Monday-Friday: 9am-8pm / Saturday: 9am-5pm

VG, V
Hello Chinese

Outside semester Hours (includes Summer school): Monday-Friday: 9am-3pm

Semester 1: Monday-Friday: 9am-7pm

GF, DF, VG, V
Gong Cha

Outside semester Hours (includes Summer school): Monday-Friday: 11am-3pm

Semester 1: 20 February, Monday-Friday: 9am-7pm / Saturday 10 am-3pm


GF, DF, VG, V
Hollywood Bakery

Outside semester Hours (includes Summer school):

Monday-Friday 6.30am-3pm

Semester 1: 20 February onwards: Monday-Friday, 7.30am -5pm


The Bowl

Outside semester Hours (includes Summer school): Monday-Friday, 9am-4pm

Semester 1: 20 February onwards: Monday-Friday: 9am-7pm

GF, DF, VG, V
Uni Sushi

Outside semester Hours (includes Summer school): Monday-Friday: 9am-4pm

Semester 1: 20 February onwards: Monday-Friday, 9am-7pm

GF, DF, VG, V
Tart Bakery

Outside semester Hours (includes Summer school): Monday-Friday: 9.30am-2pm

Semester 1: 17 February onwards: Monday-Friday 8.00am-4.30pm


GF, DF, VG, V
Tank

Outside semester Hours (includes Summer school): Monday-Friday: 9am-6pm

Semester 1: 20 February onwards: Monday to Friday 8.00am-7pm


GF, DF, VG, V
Nick's Kitchen

Outside semester Hours (includes Summer school): Monday-Friday: 9.30am-7pm

Semester 1: 20 February onwards: Monday-Friday 9.30am-4.00pm


GF, VG, V
Kate Edger Information Commons, 11 Symonds St
Outlet
Semester hours
Dietary options
Needo

Outside semester Hours (includes Summer school): Monday-Friday: 11am-4pm

Semester 1: Monday-Friday: 11am-7:30pm

Munchy Mart
(Level 0)


Monday-Thursday: 7.30am-7pm
Friday: 7.30am-6pm

Closed on the weekend

Relax Lounge

Outside semester Hours (includes Summer school): Monday-Friday: 7am to 3pm

Semester 1: Monday-Friday: 7am to 6pm

Shaky Isles Coffee Co.

Outside semester Hours (includes Summer school): Monday-Friday: 7:30am-3:30pm

Semester 1: Monday-Friday: 7am-8pm

Strata Café
(Level 4)


Outside semester Hours (includes Summer school): Monday-Friday: 8am-4pm

Semester 1: Monday-Friday: 7.30am-5pm

The Taco Joint (by Mexicali)

Outside semester Hours (includes Summer school): Monday-Friday: 11am-3:30pm

Semester 1: Monday-Friday: 10am-5pm

Bars
Outlet
Hours
Dietary options

8 Alfred St (next to AUSA)

End of 2022 break: Closed 2 December, re-open 20 February 2023

Outside semester Hours (includes Summer school): Not open for Summer school

Semester 1: 20 February onwards. Monday-Friday: Opening: no earlier than 9am / Closing: no earlier than 6pm and no later than 3am.

Saturday: Opening: no earlier than 7pm / Closing: No earlier than 10pm and no later than 3am.

Sunday: Closed


GF, DF, VG, V
Faculty outlets
Outlet
Hours
Dietary options

OGGB, 12 Grafton Rd

Outside Semester Hours (includes Summer school): Open 16 January-27 January:

Monday to Thursday 8am-3pm, Friday 8am-6pm (cabinet food only)

31 January-17 Feb: Monday to Thursday 8am-4pm, Fri 8am-7pm (full menu)

Semester 1: 20 February onward: Monday-Wednesday 7.30am – 5am, Thurs 7.30am-6pm, Fri 7.30am-7pm


GF, DF, VG, V

Law Building, 9 Eden Crescent

Outside semester Hours (includes Summer school): Monday to Friday 7.30pm – 4pm

Semester 1: 20 February onwards, Monday to Friday 7.30am-4pm



G90 Café

Student Science Centre

Outside semester Hours (includes Summer school): Monday to Friday 7am-3pm

Semester 1: 20 February onwards, Monday to Friday 7am-6pm

Epsom Campus: 74 Epsom Ave
Retail Outlet
Hours
Dietary options
Epsom Café

End of 2022 break: Closed from 9 December, reopen 23
January

Outside semester Hours (includes Summer school): Monday to Friday: 8am-2pm

Semester 1: 20 February onwards, Monday to Friday: 7.30am-4pm


GF, DF, VG, V

Grafton Campus: 85 Park Rd
Retail Outlet
Hours
Dietary options
Superfino Café

Outside Semester Hours (includes Summer school): Open 16 January-27 January: Monday to Thurs 8am-3pm, Friday 8am-6pm (cabinet food only)

31 January-17 February: Monday-Thursday 8am to 4pm Friday 8am -7pm (full menu)

Semester 1: 20 February onwards Monday-Wednesday 7.30am-5am, Thursday 7.30am-6pm, Friday 7.30am -7pm


GF, DF, VG, V

Dietary options key
DF: Dairy Free
GF: Gluten Free
VG: Vegan
V: Vegetarian
H: Halal