COVID-19 Update
With New Zealand moving to COVID-19 Alert Level 4, most retailers on campus have closed. 
Munchy Mart, Campus Pharmacy and the University Health & Counselling Service will remain open throughout the lockdown. More information here.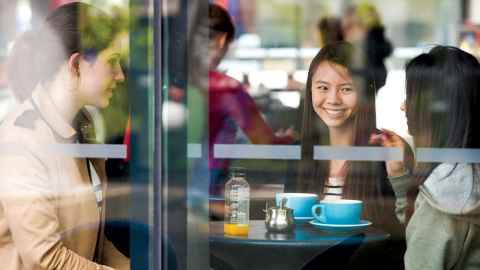 Vending
The University has rolled out a pioneering vending solution available 24/7. Refrigerated, fresh food and dairy machines sit prominently around all campuses. The machines offer up to 54 different choices of healthy and indulgent snacks and beverages, at a competitive price and all without having to leave campus.
City Campus
Student Quad, 34 Princes St
Outlet
Semester hours
Holiday hours
Barilla
Mon-Fri, 9am-4pm
Mon-Fri, 9am-4pm.


Hello Chinese
Mon-Fri, 9am-4pm
Mon-Fri, 9am-4pm


Gong Cha
Mon-Fri, 10am-3pm
Sat, 11am-3pm

Mon-Fri, 10am-6pm


Hollywood Bakery
Mon-Fri, 7.30am-5pm
Mon-Fri, 8am-4pm


Jewel of India
Mon-Fri, 9am-7pm
Sat, 10am-3pm

Mon-Fri, 9am-5pm
Sat, 10am-3pm


Tank Juice Bar
Mon-Fri, 8am-7pm
Sat-Sun, 9am-5pm

Mon-Fri, 8am-7pm
Sat-Sun, 9am-5pm


Uni Sushi
Mon-Fri, 9am-7pm
Mon-Fri, 9am-4pm


Kate Edger Information Commons, 11 Symonds St
Outlet
Semester hours
Holiday hours
Needo
Mon-Fri, 11am-7.30pm
Mon-Fri, 11am-3.30pm

Munchy Mart
(Level 0)

Mon-Fri, 7.30am-5pm
Closed weekends
Mon-Thurs, 7.30am-6pm
Fri, 7.30am-5.30pm


Shaky Isles Coffee Co.
Mon-Tue, 7.30am-6pm
Wed-Thu, 7.30am-7pm
Fri, 7.30am-6pm
Sat, 9am-4pm

Mon-Fri, 8am-4pm


Strata Café
(Level 4)

Mon-Fri, 7.30am-5pm
Mon-Fri, 8am-4pm


The Taco Joint (by Mexicali)
Mon-Fri, 10am-6pm
Mon-Fri, 10am-3.30pm


Arts Quad (formerly HSB Courtyard), 10 Symonds St
| Outlet | Semester hours | Holiday hours |
| --- | --- | --- |
| Mojo Coffee | Mon-Fri, 7.30am-5pm | Mon-Fri 8am-4pm |
| Ha!Poke | Mon-Fri, 8am-4pm | Mon-Fri 8.30am-4pm |
Bars
Outlet
Hours
Location
Shadows Bar

Mon-Fri, 8am - late
Sat, 7pm - late

8 Alfred Street
Faculty outlets
Outlet
Hours
Location
The Deli
Mon-Fri, 7am-6pm



OGGB - Level 1
12 Grafton Road

Strata Café
Faculty of Law

Mon-Fri, 7.30am-3.30pm



Law Building
9 Eden Crescent
Shaky Isles Coffee Kiosk
Mon-Fri, 8am-4pm



Engineering Building
20 Symonds St

Epsom Campus
| Retail Outlet | Hours | Location |
| --- | --- | --- |
| Epsom Café | Mon-Fri, 7.30am-3pm | 74 Epsom Avenue |
Grafton Campus
Retail Outlet
Hours
Location
Superfino Café

Mon-Thu, 7.30am-6pm*
Fri, 7.30am-7pm

*5pm close during holidays


85 Park Rd, Grafton