Congratulations to the winners of our 2022 Interfaculty and Tertiary Sports Awards.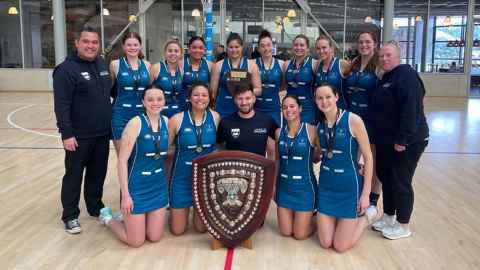 The Sports Awards are a chance to recognise and celebrate students who have excelled in Interfaculty and Tertiary sports throughout the year.
Staff and students were encouraged to vote for their favourite team and players from the categories listed below. Award winners and runners-up in each category were announced on social media, this included the announcement of the Elizabeth Campbell Cup, Sir Colin Maiden Interfaculty Shield and UTSNZ Shield. 
Individual Sporting Excellence Awards
| Award | Name | Place |
| --- | --- | --- |
| Basketball | Mikaere Watene | Winner |
| | Terence Adbon | Runner-up |
| Ultimate Frisbee | Zaria Ireland | Winner |
| | Li Yeoh | Runner-up |
| Volleyball | James Sadlier | Winner |
| | Matty Bell | Runner-up |
| Futsal | Jordana Bremner | Winner |
| | Mike Antamanov | Runner-up |
| Badminton | Shaunna Li | Winner |
| | Oscar Guo | Runner-up |
| Rowing | Waldo Singleton | Winner |
| | Camille Dignadice | Runner-up |
| Netball | Crystal Maro | Winner |
| | Courtney Katterns | Runner-up |
Interfaculty Sport: Major Awards
| Award | Name | Place |
| --- | --- | --- |
| Interfaculty Team of the year | Science Ultimate Frisbee | Winner |
| | Engineering Women's Futsal | Runner-up |
| Manager of the Year | Narise Hansen | Winner |
| | Solomon Fifita | Runner-up |
| Supporter of the Year | Cecelia Koloamatangi | Winner |
| | Hayato Yoneto | Runner-up |
| Interfaculty Sportsman of the Year | Kellen Dudley-Rode | Winner |
| | Solomon Fifita | Runner-up |
| Interfaculty Sportswoman of the Year | Chui Yee Wong | Winner |
| | Rebecca Hughes | Runner-up |
| Elizabeth Campbell Cup | Narise Hansen | Winner |
| | John Golena | Runner-up |
| Sir Colin Maiden Shield | Science Spartans | Winner |
| | Engineering Eagles | Runner-up |
Tertiary Sport: Major Awards
| Award | Name | Place |
| --- | --- | --- |
| Rookie of the year | Catherine Hall | Winner |
| | Shaunna Li | Runner-up |
| Coach of the Year | Liz Page | Winner |
| | Ethan Taylor | Runner-up |
| Tertiary Team of the Year | Netball | Winner |
| | Ultimate Flood | Runner-up |
| Tertiary Sportsman of the Year | Li Yeoh | Winner |
| | Mikaere Watene | Runner-up |
| Tertiary Sportswoman of the Year | Crystal Maro | Winner |
| | Zaria Ireland | Runner-up |
| UTSNZ Shield | The University of Auckland | Winner |