UniCrew are a team of helpful students who get paid to work at University events.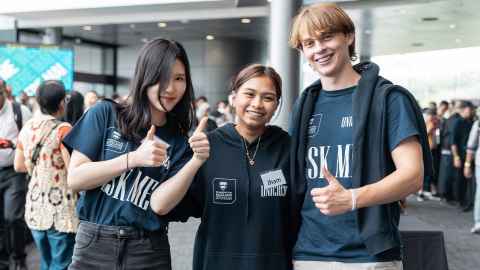 Apply for 2021
Applications for UniCrew positions in 2021 are open from 22 Sept to 6 October.
Are you looking for a casual job while you are studying at the University of Auckland?
Student Engagement are looking for a team of 30 UniCrew members; dependable students with excellent communication and customer service skills to help out with campus activities.
Key responsibilities include meeting and greeting visitors, providing directional support, and helping with event set up and pack down.
To be considered for this role you must be able to work on the following core days:
Training: 29 October, 5pm – 7pm, 18 February (Time TBC)
Orientation: Semesters 1 (22 – 26 February) & 2 (12 – 16 July), 7am-4pm
Graduation: Semesters 1 (3-7 May) & 2 (28 September)
Open Day: 28 August, 7am-4pm
You will need to have completed at least one year at the University before you apply to the scheme, as it is important you know your way around the City Campus.
There will be comprehensive training and paid briefings prior to all UniCrew staffed events.
Joining the UniCrew team provides great opportunities for professional development, as well as being a reliable source of casual employment.
If you are available for the core dates and are interested in the role, we would love to receive your application.