Find out about the history of the University of Auckland's most iconic building, the ClockTower.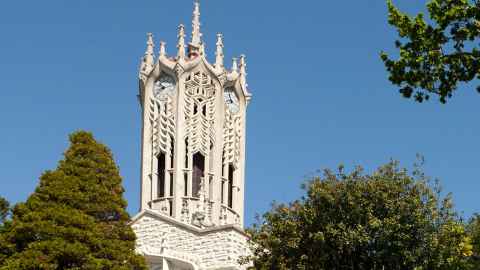 Formerly known as the Old Arts building, the ClockTower was designed by R.A. Lippincott, a Chicago-trained architect and brother-in-law of Walter Burley Griffin, designer of Canberra.
The 54-metre tower, faced with Mount Somers stone, was inspired by the famous Tom Tower of Christ Church, Oxford. It has come to symbolise the University. The octagonal interior is vaulted and galleried with a mosaic floor and piers.
For many years the building housed all Arts departments, Architecture, Law, Music and the Library as well as the University Hall. The rear wing provided extremely limited student amenities until the Student Union Building was opened in 1968.
Between 1985 and 1988, the main wing was renovated, strengthened and cleaned, regaining the whiteness which originally suggested the popular name of "the wedding cake". This major reconstruction work earned an award from the Institute of Architects.
It now houses the Vice-Chancellor and the Vice-Chancellor's Office, the Equity Office, parts of Academic Services, the Great Hall and the Council Room.
The ClockTower is the University of Auckland's most iconic building and is open to the public for free. 
This video features interviews with Professor Errol Haarhoff and Dr Julia Gatley from the School of Architecture and Planning at the National Institute of Creative Arts and Industries. Film and music by students of the University of Auckland.
Thanks to the University of Auckland Library Special Collections for access to archive material.