Information about parking options at each of our main campuses.
Parking at the City Campus
There are five levels of car parking (over 1,000 spaces) at the Owen G Glenn Building (OGGB). This is the main car park on the University of Auckland's City Campus. You can access the car park via Grafton Road, opposite Stanley Street.
Hours
Monday to Friday, 6.30am to 11.30pm.
Saturday and Sunday, 7am to 11pm.
Closed on public holidays.
Casual parking rates

| Parking option | Cost | Hours | Days |
| --- | --- | --- | --- |
| Per hour, up to 5 hours | $5 an hour | 6.30am to 4.30pm | Monday to Friday |
| More than 5 hours | $25 flat rate | 6.30am to 4.30pm | Monday to Friday |
| Evening parking | $6 flat rate | After 4.30pm | Daily |
| Weekend daily parking | $6 flat rate | 7am to 11pm | Saturday and Sunday |
Note: From Monday 20 January 2020 credit card payments will attract a fee of 1.9% per transaction. There is no convenience fee charge for EFTPOS transactions.
Costs
Parking charges can be paid via EFTPOS using a debit or credit card.
There is a $25 lost ticket charge.
Times and rates may change without notice.
How to enter and exit the car park
Use the lifts to move between parking floors and exit in the Level 1 OGGB foyer.
How to exit after hours:
Enter the building using your parking ticket to open the pedestrian door.
Use the inside pay station to pay for your ticket and validate it for exit.
Use your ticket to raise the barrier arm (you must drive directly to the exit grille for it to rise).
Note: There is a release button for exiting the building after hours: however you will not be able to enter the lift foyer from outside.
Staff car parking
To find out about staff parking at the OGGB car park, visit the Staff Intranet.
Visitor car parking
There is a limited amount of parking available for visitors. If you are visiting a Business School staff member, check with them to see whether any short-term parking can be arranged. If no visitor parking is available, you will need to pay the casual rate.
There is a range of paid parking areas run by Auckland Transport, Tournament Parking and Wilsons Parking around the City Campus.
Parking at the Newmarket Campus
There are good bus and train services to Newmarket. We encourage you to use public transport when travelling to the Newmarket Campus and for efficient travel between campuses instead of taking a car.
Staff car parking
Staff parking can be accessed from Gate 1 on Park Road or Gate 3, 302 Khyber Pass Road or Suiter Street. Vehicles parked in staff car parks must display a current University staff parking permit.
Visitor car parking
Limited visitor parking is available at Gate 3, 302 Khyber Pass Road.
Parking at the Grafton Campus
There are several staff car parks at Grafton campus. Currently there is no dedicated parking available for students at the Grafton Campus.
Limited visitor parking is available.

Parking at the Epsom Campus
The Epsom Campus provides free parking for staff, students and visitors.
Student and visitor car parking
Students and visitors can park in the multi-level car park at Gate 2, 74 Epsom Ave. There is also 15-minute student and visitor car parking at Gate 3, 76 Epsom Ave for dropping off assignments, and library books etc.
Staff car parking
Staff car parks are numbered and vehicles parked in staff car parks must display a current Faculty of Education staff parking permit. Vehicles parked without authorisation may be towed.
Parking at the Tai Tokerau campus
Follow the signs on campus.
Park and Ride services
If you are travelling from suburbs beyond the inner city, you can use a Park and Ride service. This allows you to drive to the bus or train station, leave your car, and enjoy a hassle-free ride into the central city.
On-street parking
This usually operates on a Pay By Plate basis. When you park, you must register your car number plate and purchase time from a roadside machine.

Parking times are strictly enforced by parking wardens, so check the maximum allowed time and move your car before your time expires.
Disability parking
There are a small number of spaces on campus for people with CCS mobility cards and people recovering from surgery or injury. There are changes associated with disability parking. 
How to access the disability parking spaces
Students 
Take your CCS card or supporting medical evidence to:
Disability Services
Room 036 (basement)
The ClockTower
22 Princes Street
Phone: 373 7599 ext 82936, or direct dial 923 2936
Complete an 'Application for Parking' form.
Confirm the parking areas required.
Pay the appropriate parking fee. Fees vary.
For more information contact disability@auckland.ac.nz
The Disability Services Office will give you a temporary parking permit, for the specified period of time, after you have paid the fee. The parking permit allows you to use disability parking spaces in your nominated parking areas on a first-come-first-served basis. Note that the parking permit does not give you a reserved parking space.
If you need access to a parking area that is controlled by a barrier arm, the Disability Services Office will give you a swipe card (if you don't already have one) and authorise Security to load your card with access to the relevant parking areas.
You must return the swipe card when you no longer need it. If required, you must re-apply for a permit.
Disability car parking at the Tai Tokerau and Epsom campuses
You will need a current CCS Mobility Parking Card. There is no charge for parking at these campuses on a first-come-first-served basis.
Contact details:
Disability Services
Room 036, Basement Level
ClockTower
22 Princes St
Auckland
Phone: 373 7599 ext 82936, or direct dial 923 2936
Email: disabilities@auckland.ac.nz
Other disability car parking in Auckland
Mobility-impaired parking is also available around the city and suburbs. For more information, visit Auckland Transport.
Motorcycle and scooter parking
Street parking is available for two-wheeled vehicles at:
Symonds Street between Alfred and Wellesley Streets
Princes Street
Various marked areas on all five levels of the Owen G Glenn Building car park in Grafton Road
Eden Crescent – Law School car park
Park Road outside the Grafton Campus.
Bicycle parking
Bicycle parking is available on all of our campuses. There are lockable cages in various locations in the City, Newmarket, Grafton and Tai Tonga campuses.
To request access to the bike sheds, refer to Where are bike stores located?.   
Use the racks/cages provided and do not take your bike into University of Auckland buildings.
Carpooling
Carpooling is a great choice if you can't commute by walking, cycling or using public transport.
Rideshare parking bays are reserved for commuters travelling to, and parking in, the OGGB car park in Grafton Road with 2 or more persons in a vehicle. These spaces are located near to the lifts on levels P1 and P2. 
Find and share rides using the Auckland Transport (AT) Smart Travel app, or find out more about workplace carpooling on the AT website.

EV Vehicle charging stations
For Health and Safety reasons it is not permitted to connect electric vehicles (EV) to the University power network.
Property Services is aware of the increasing demand for EV charging points in the University car parks. There are a number of challenges from an operational and infrastructure perspective to providing chargers in the car parks.
The Operations team at Property Services, in liaison with the Energy and Sustainability managers, assess opportunities on a regular basis. As technologies change and opportunities present themselves, we may be able to support a charging point project.
Check online maps for locations of EV charging stations close to the University.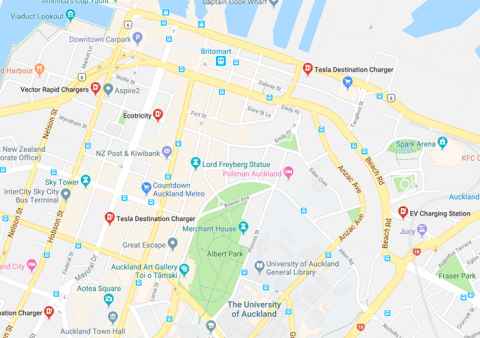 General parking enquiries