Animal welfare and ethics
Good animal welfare sits at the centre of all our animal research. Well cared for animals and strong ethical standards go hand-in-hand with good science.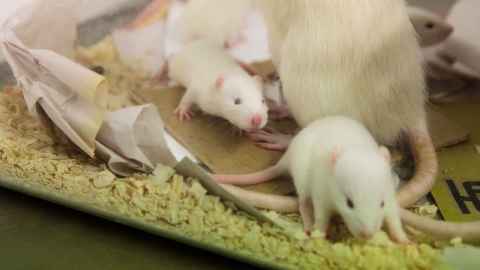 Ethical framework
All staff and students at the University of Auckland must have approval from the University of Auckland Animal Ethics Committee (AEC) prior to starting research, testing or teaching involving animals.
The AEC meets 11 times per year to consider applications and amendments for animal research, reports on projects, and any animal welfare issues. This committee comprises representatives of the University and external members.
The responsibilities of the University and the AEC are outlined in the University's Code of Ethical Conduct.  An approved Code of Ethical Conduct (CEC) is required for any organisation that wants to form an AEC and consider animal-based research or teaching applications.
The CEC is approved by the Ministry for Primary Industries (MPI), and is supported by the University's AEC Process Document which outlines steps and responsibilities related to how the Code is implemented in practice. The CEC is required to be re-written and submitted to MPI for approval every five years. An audit by an independent reviewer from MPI is carried out at least every five years.
When is Animal Ethics Committee approval required?

Approval is required for any manipulation of any animal for the purpose of research, testing and teaching *, for euthanising an animal to conduct research or teaching on a dead animal or animal tissue, and when using animals in fieldwork beyond simple observation.
*Definitions for 'Manipulation', 'Animal', 'Research, testing and teaching' are as set out in the 'Interpretation' section of the Animal Welfare Act 1999.

Animal Welfare Act
Animal Ethics Committee (AEC) approval is required by law under the Animal Welfare Act 1999 (the Act). A provision of the Act is that any manipulation of a live animal for research, testing and teaching is prohibited unless it has been approved by an Animal Ethics Committee (AEC).
Part 6 of the Act addresses research, testing and teaching. The section indicating what the AEC considers when reviewing an application or setting, varying, or revoking conditions of an approval may be found here. 
Furthermore, the University's AEC ensures that conditions specified in the University's Code of Ethical Conduct are met for an approval to be granted and during post-approval monitoring.
What training is provided for researchers who are working with animals
Prior to working with animals, staff and students must complete 'New Animal Users Legislation Training'. New Principal Investigators (PI) must also complete 'New Principal Investigator training'.
Researchers are also required to complete training to competency related to the animals with which they will work and the manipulations that they are required to undertake.
All staff and students who are named on an application to the Animal Ethics Committee must be conversant with the following documents and legislation.

What public information is available about animal research at the University?
Researchers routinely publish information and do talks about their research. There are also research group webpages that talk about their work.
As a signatory to the Openness Agreement on Animal Research and Teaching in New Zealand, the University will increasingly endeavour to share more stories and information about animal-based research and teaching in the public domain.

The public may also request specific details of animal use and approved protocols under the Official Information Act 1982. The release of information is handled by General Counsel in consultation with the Animal Welfare Officer (AWO) and the Chair of the AEC. There is provision for a person to ask the Ombudsman to review the University's decision for any information that may be withheld.