Dr Selina Tusitala Marsh is an Auckland-based Pacific poet and scholar of Samoan, Tuvaluan, English, Scottish and French descent.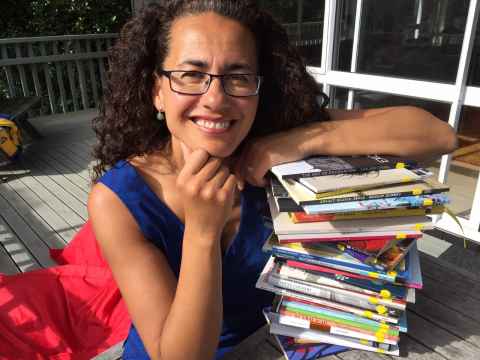 In 2004, she completed her thesis entitled "Ancient banyans, flying foxes and white ginger: Five Pacific women writers" that investigated the little known works of five Pacific Island women poets Jully Makini (Solomon Islands), Grace Mera Molisa (Vanuatu), Haunani-Kay Trask (Hawai'i), Konai Helu Thaman (Tonga), and Momoe Malietoa Von Reiche (Samoa).
In brief, Selina believes these poets were pioneers of Pacific literature and were influential in giving a voice to Pacific women and children as a means of empowerment in a largely male-dominated post-colonial era – "Poetry was used as a political voice. These women were all quite remarkable boundary-breakers." On completion of her doctorate she became the University of Auckland's first Pacific student  to graduate with a PhD in English where she now currently teaches papers on New Zealand and Pacific Literature.
Selina's work has been widely published and has appeared in a range of online and hardcopy literary journals and anthologies including Blackmail Press, Whetu Moana: Contemporary Polynesian Poetry in English, Mauri Ola: Contemporary Polynesian Poetry in English–Whetu Moana II (Auckland University Press/UHP), Best New Zealand Poems 2006, Niu Voices: Contemporary Pacific Fiction 1 and The Contemporary Pacific (UHP).
Selina established and coordinates Pasifika Poetry, an online hub celebrating the poetry of tagata o te moana nui, the peoples of the Pacific. Visit Pasifika Poetry.
She is also the co-chair of the South Pacific Association of Language and Literature, which is hosting a conference "Reading and Writing in the Pacific" at Te Herenga Waka, Victoria University in 2011 and is co-editor of its literary journal, SPAN.
Other research interests include global indigenous literatures and performance, and Selina has performed her poetry at a range of venues and festivals. Selina is also a graduate of the 2010 Leadership New Zealand Programme, and in celebration of Leadership Week 2010 she took part in its fourth annual black tie dinner themed 'New Zealand the Lucky Country – Opportunities for Our Future' along with other distinguished guests including Sir Stephen Tindall, Carol Hirschfeld and Karam Meuli.
Selina's latest achievement includes the publication of her first book of collected poems, Fast Talking PI, which was awarded the New Zealand Society of Authors Jessie Mackay Best First Book Award for Poetry 2010.
For more detail about Selina's research and teaching, or to get in contact, visit Professor Selina Tusitala Marsh.