Rachel Lawson won the top masters prize at the University of Auckland 3MT Finals 2021, with her presentation on 'Human mobility during COVID-19 using big data'.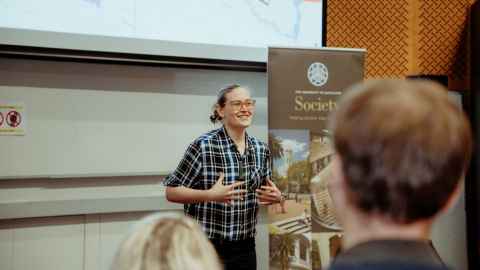 "Through my research, I showed that big data, like mobile phone location datasets can be analysed and visualised ethically to gain insights into our everyday movements, inequality in accessibility to services, and the ways disasters – like pandemics – change our normally predictable movement patterns.
"I entered the Three Minute Thesis competition because I wanted to challenge myself and get out of my comfort zone.
"The best part about 3MT was meeting new people and seeing the range of research occurring not just in my department, but throughout the wider university. The competition really challenged me to condense my research down and present it without using technical jargon."
Since competing in 3MT, I feel much more confident presenting my research to general audiences, a skill I have used in my new role at a crown research institute.
"While the presentation was pretty nerve wracking, the atmosphere of the event, with music, food/drinks, and the support from staff, my supervisors, friends and event organisers made it a great place to test my public speaking and science communication skillset.
"My advice for anyone considering entering the competition is to make the most of preparation workshops on offer. I had the chance to brainstorm, practice in front of an audience and test what sentences and jokes worked, and what missed the mark."
Want to take part in 3MT?