Sam Mackay entered the 3MT competition in 2021 to sharpen his elevator pitch about his research, never expecting to make it to the finals. He ended up winning the top doctoral prize, and went on to represent the University of Auckland at the 3MT Asia-Pacific Final.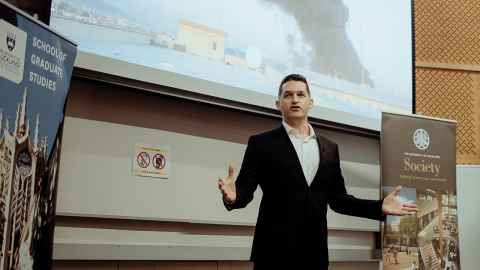 "I decided to enter the Three Minute Thesis competition to help me sharpen up my elevator pitch about my research. I thought it would be a good opportunity to find ways to frame up my research for a general audience, and to highlight its contribution and significance. I had only just started my field work when I entered last year – so I wasn't expecting to make it through to the finals - let alone win!"
The best part of 3MT was seeing other PhD and masters students in action.
"The other students spoke so passionately about their research and it was great to learn so much in so little time. It was amazing to hear the research that they are embarking upon and the impact that this research will have in the world.
"I'd encourage anyone to give 3MT a go - it's a really useful process to help sharpen up how you present your own research. As researchers we often get immersed in the world of academic concepts and language, so it can be refreshing to 'surface' and try and find ways to communicate your research to a general audience without their eyes glazing over!
"Through the 3MT process, you can meet people who can assist your research, and along the way you learn a lot from your fellow students. Besides that, the 3MT Finals is a really interesting and entertaining experience!"
Want to take part in 3MT in 2022?