Smridhi says 3MT allowed her to initiate conversations, make her research comprehensible to anyone, and plant a seed in people's minds about her topic's relevance and importance.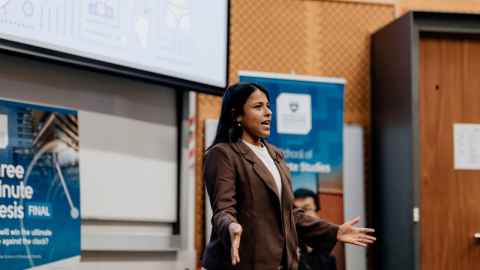 "I was inspired to enter the Three Minute Thesis competition because it was an opportunity to share my research with a larger group, beyond my tight group of supervisors and peers. 3MT was a stepping stone for me to initiate a dialogue about my research on how body image is embedded in our daily lives. Its importance lies in its existence in our daily activities – from picking our clothes to consuming our meals to having a good and bad day based on that!"
The best part of my 3MT experience was witnessing people's joy and purpose for their research.
"It was delightful to see doctoral students from different disciplines come together and passionately discuss their research. Through this journey, I have seen fellow participants help and support each other, showcasing the true essence of a doctoral journey – while our research topics might differ, our challenges and journey have more similarities than we know. 
"To anyone considering taking part in 3MT, I'd say 'just do it!'. 3MT has helped me translate my research to make it comprehensible to anyone from any discipline or profession. This has helped me initiate conversations, network and plant a seed in people's minds about my topic's relevance and importance. You may not realise it, but 3MT might help you find many unexpected answers about your research that you were looking for in some other places."
Want to take part in 3MT?