Enormous congratulations to everyone who participated in the 2020 Three Minute Thesis (3MT®) Final.
University of Auckland 3MT® Final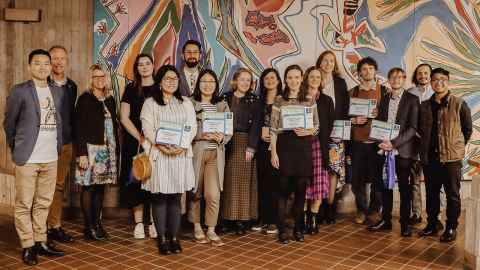 Congratulations to all our finalists, and especially our winners, for a thrilling finale to the University's 2020 Three Minute Thesis competition.
Our judges, Dr Sam Elworthy (Auckland University Press Director), Professor Jennifer Curtin (Politics and International Relations) and Yi-Han Wu (2019 Doctoral and People's Choice Winner), agreed that this year's competition raised the bar in terms of the quality and professionalism of the presentations - and hinted that there wasn't much in it when it came to the winning performances.
The School of Graduate Studies team would like to say a huge thank you to our judges, our finalists and to our stalwart sponsors, whose generous support is the foundation of the competition's success. We would also like to thank faculty staff for the hard work they put into their faculty heats, and to each and every student who has participated. You are all winners to us.
Read the full announcement here: Stick insects steal show at Three Minute Thesis Final.

Doctoral Winner
Morgane Merien | Biological Sciences
Ecology and diversity of camouflage in New Zealand stick insects
Doctoral Runner-Up
James Hucklesby | Biological Sciences
From stem cells to strokes: Culturing intimate associations

Masters Winner
Erin Thomas | Development Studies
Gender-based Violence in Niue: Family-tree Mapping

Masters Runner-Up
Angus Dowell | Environment
Constructing a Regenerative Economy: Responses along the supply chain

People's Choice Winner
Laura Pedofsky | Auckland Bioengineering Institute
Urine luck! Leaking is not an option

Doctoral Finalists
Xichen Sun | Translation Studies
Lost in Subtitles
Claire Pascua | Civil and Environmental Engineering
Seismic performance of steel frame-concrete wall hybrid buildings​
Aldrich Rasco | Information Systems and Operations
Immersive Persuasive Personalised Evolutionary Serious Financial Literacy Games for
Young Decision-Makers
Joscelin Smith | Medical Science
Examining receptor trafficking and synapse plasticity in the neural innervation of the
heart
Amanda White | Curriculum and Pedagogy
Nobody puts baby in the corner
Masters Finalists
Emma Quigan | Curriculum and Pedagogy
Village style parenting in an urban context: Exploring the power of the collective
Daniel Rameriez | Engineering Science
Double energy input
Brodie Elliott | Medical Science
Paediatric Appendicitis: Do rural families get the rough end of the stick?

Gallery