Katie Smith – PhD in Psychology
Katie Smith applied for the Academic Career Advancement Programme to find answers to her burning questions about academia. She says the programme has given her a head start on her career, insights from experts, and opportunities to connect with other students.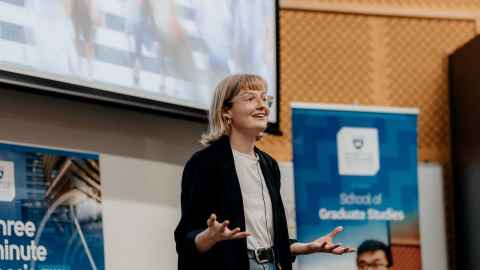 "In the second year of my PhD, I was becoming more and more confident that I wanted to stay in academia, but I still had a few burning questions. What is work-life balance like as an academic? How do you get started? What's the difference between a research fellow and a postdoc?
"I heard about the Academic Career Advancement Programme in Doctoral News and decided to have a look. Reading through the seminar topics, I thought there was so much I could learn about what it's really like to be an academic, especially when you're just getting started. A lot of the knowledge I had about being in academia at that time had been gained from informal conversations, and I thought the programme would be a good opportunity to formalise my knowledge and get some different perspectives.
The Academic Career Advancement Programme has given me a head start on my career. 

"The programme has helped me to create and refine some key resources that are critical to a young academic on the job market. I have used insights from the experts to make some great revisions and additions to my teaching profile and CV. Even better, I had the opportunity to ask specific questions and get tailored advice.
"Another highlight of the programme is the other students! It has been a real pleasure to connect with some brilliant and thoughtful people who are on the same journey as I am. I have really enjoyed getting to learn from them.
"My advice to anyone considering becoming an academic is that the ACAP could be a good opportunity to learn about all aspects of academic life. Whether you want to know how to be a good teacher, if you're not sure how to get your research noticed, or if you want to know what you need to start applying for jobs after graduating, the ACAP will have something for you!"
Apply for the Academic Career Advancement Programme
The Academic Career Advancement Programme allows candidates to explore key aspects of academic life, build interdisciplinary relationships with academics across the University, and get a head start in the academic job market. Applications are open until 30 September.