Find out about events for postgraduates and how to stay up-to-date with what's on.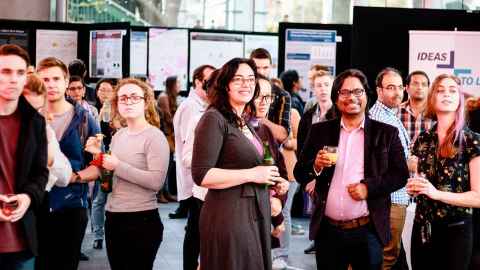 School of Graduate Studies (SGS)
Three Minute Thesis

Could you present an 80,000-word thesis in just 180 seconds? Three Minute Thesis challenges research students to do just that. This epic race against the clock is a thrill for participants and audience members alike, plus a valuable opportunity for research students to upskill and increase their research impact.

Find out more about Three Minute Thesis.

SGS Research Showcase

The School of Graduate Studies (SGS) Research Showcase is a celebration of postgraduate research from the University's exceptional doctoral candidates and masters research students. Participants can submit to any (or all) of three categories: Academic Posters, Research Images or Creative Items, or simply the work at the Showcase exhibition.

Find out more about the SGS Research Showcase.

Researcher development workshops

SGS facilitates a range of research and personal skills workshops. These are aimed at doctoral candidates, but open to sub-doctoral postgraduate researchers as well. To find details of these workshops, check your fortnightly issue of Postgrad News.

PGSA
Joining the Postgraduate Students Association (PGSA) connects you with your peers and enables you to have a say in how the University runs. You could represent your community on a range of University committees, participate in exciting postgraduate events and - as a committee member - develop vital transferrable skills.  
Find out more online at Postgraduate Student Association.

University-wide
Academic skills workshops
Te Tumu Herenga Libraries and Learning Services offer a valuable selection of workshops to support academic skills development.
Find out more at Library workshops.
Unleash Space
Are you an innovator, creator - or just looking to explore some new ideas? Unleash Space offers a range of activities and events to support entrepreneurial thinking, from the Velocity programme to design tool workshops.
Find out more at Unleash Space.

Life on campus

What's On keeps you up-to-date with student events and activities on campus for students across the University.
Check it out at What's On.
Public lectures and talks
There is a wealth of public lectures, talks and public seminars open to students and staff from across the University. If you want to hear expert academics and industry leaders speak on the topics they know best, consider attending a public lecture, talk or seminar.
You can find out more via Postgrad News, faculty newsletters and the University's social media accounts.

Stay informed
Postgrad News is a fortnightly newsletter for current postgraduate students. The newsletter keeps postgrads up-to-date with development opportunities, events, news, information and resources that can help you make the most of your postgraduate experience.

Students are added automatically to the relevant list, but if you have problems, please email sgs-communications@auckland.ac.nz.