At CDES, it's our job to support students as they navigate the world of work.
Contact us
Career Development and Employability Services
Room 151, Level 1, Kate Edger Information Commons
2 Alfred St
Auckland Central
Phone: +64 9 3737599
Email: careers@auckland.ac.nz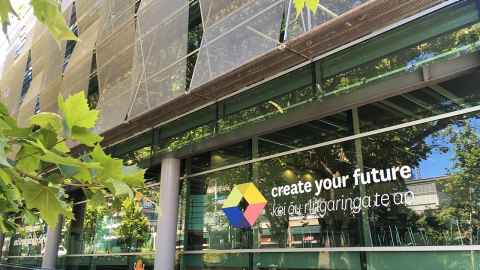 Our services
We assist University of Auckland students (as well as graduates up to three years after graduation) with all aspects of career development.  
Our vision is to help graduates develop the capabilities to successfully self-manage and navigate their world of work, life and learning.
This will enable you to:  
Realise your potential
Move towards a personally determined and evolving future
Be positive contributors to local, national and global communities
How can CDES help?
MyCDES and MyCDES+
MyCDES and MyCDES+ are the University of Auckland's online career management platforms.
Schedule a face to face appointment: You can make an appointment with a Career Development and Employability Consultant.
Book your place for our workshops: You can develop your CV and cover letters, learn about career planning, interview, networking and job search skills.
Book your place for CDES employer events: We organise recruitment events, Career Expos, and employer workshops throughout the year that cater to a wide range of students.
Access interactive online modules and resources covering topics such as 'How to create a CV' and 'How to find work and create opportunities' and cover letter checks.
Develop your CV and cover letters, learn about career planning, interview, networking and job-search skills.
Search and apply for jobs via the NZUni Talent job board, including internships and graduate programmes, part-time/casual roles and full-time positions.
Utilise self-service career tools, including our online CV builder and CV check.
I absolutely love working with MyCDES+. One of my favourite tools is the CV360 that helped me strategically design my CV with section-specific personalised recommendations. I love the fact that the tool provides these suggestions based on ATS and industry specific keywords which helps me to understand where and how I could make the necessary changes to make my profile stand out. Another tool I really loved was the CV Builder which was very quick and effective in designing a structured and role specific CV. These new additions help me feel a lot more confident in my job search.
Careers drop-in and appointments
Do you have a quick career-related question or want to get a final check on your CV or cover letter? Come to our daily drop-in. 
Note: We recommend that you attend a CV workshop or complete our online module (select 'CDES: How to create a CV' in the resources section) before coming along to a CV drop-in.
Our people
Meet our award-winning Career Development and Employability Consultants and Employer Engagement team.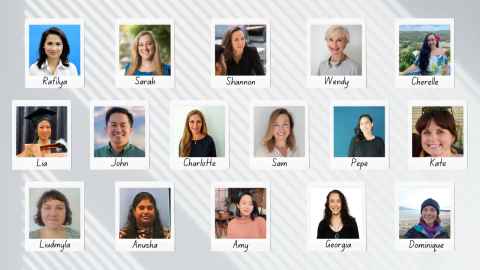 Career Development and Employability Consultants
Pepe Afeaki - Kaituki Ara Mahi Māori, Te Moana-nui-a-Kiwa | Career Development and Employability Team Leader, Māori and Pacific
Wendy Carey - First year students
John Dorado - Kaituki Ara Mahi | Career Development and Employability Team Leader
Georgia Lambert - Kaitohutohu Umanga | Māori students
Samantha Standley - Science, Medical and Health Sciences
Cherelle Fruean - Pacific students
Shannon Ring - Creative Arts and Industries, Engineering
Liudmyla Beraud - International students
Charlotte Osorio - Arts, Education and Social Work
Employer Engagement Team
Kate Coley - Employer Engagement Manager
Amy Chen - Data and Reporting Administrator
Rafilya Wilson - Events Planner
CDES Office
Sarah Moyne - Poutaki ara mahi | Career Development and Employability Services Manager
Dominique Behn - Communications and Marketing Lead
Vincelia Wong - Receptionist
Anusha Rajaratnam - Business Services Coordinator
Our impact
Student feedback
"Everything you do at CDES encourages me not only to dream, but to do."
"The support from CDES was invaluable, they have loads of resources, tools and networks to tap into which is ideal for career planning."
"Without the help of CDES, I would not have received some of the jobs and scholarships I applied for, so I am very grateful for it."
"The CDES team has great tools and it's worth getting in touch early in your studies so you're prepared when the right job comes along!"

Employer feedback
"Fantastic staff, great communications, good problem solving and collaborative approach."
"Like I say, flawless. I really enjoy working with [the University of Auckland] on events. Never a problem and there's always someone to help if I need it."
"[CDES Career Expo] was a well knitted event to bring the recruiters and the future generation of bright young minds together under one roof and provide them with a platform to share the current trends and provide exposure to the students and giving them an opportunity to choose their future."