Te Haerenga - Māori and Pacific Employability Programme
Te Haerenga has been designed to prepare Māori and Pacific students to successfully enter the world of work.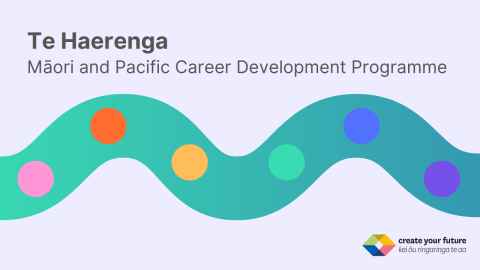 Te Haerenga | The Journey
'Titiro whakamuri, kōkiri whakamua'
'Look back and reflect to move forward' - Looking to the past to inform the future
Te Haerenga was created to empower you with the confidence, knowledge, and abilities to find your purpose and be 'recruitment ready' as you transition into the world of work.
There is a focus on cultural identity, building confidence and understanding of the value that your cultural capital and unique story hold in the workplace.

How we can help you
We work with all our students in your first year through to final year.
We help you to build connections with employers and alumni/mentors to help with the transition from Uni to the workforce.
You will have access to a wide range of employers from different industries.
Create a safe space for you to see the value of your cultural identity and to be your authentic self.
Provide career and employability workshops.
Ongoing career coaching and support.
Opportunity to connect with mentors (alumni).

Expected outcomes: What's in it for you
Understand the value of diversity and cultural awareness in the workplace
Increase your confidence in articulating your transferrable skills and experience in a job interview
Understand transferable skills, what employers are looking for and identify your own strengths
Build networks and connections through exposure to different industries
Understand the importance of your professional reputation or career identity
Check out past success stories from students who have participated.
I've attended too many CDES sessions to list, but most notably would be their 'Get Recruitment Ready series for Māori and Pacific Tauira'. Thanks to the help and exposure provided by CDES, I was confidently able to apply for and secure a variety of internships. After attending CDES facilitated sessions with Tupu Tai and KPMG, I was able to intern at the Reserve Bank of New Zealand (2020/2021 summer) and KPMG (2021/2022 summer).
How to apply
If you are a current student and would like to participate in Te Haerenga, please get in touch with us.
Our partner organisations
Vodafone
Xero
Deloitte
Orion Health
Auckland Council
Auckland Transport
BNZ
NZ Transport Agency
Microsoft
Auckland District Health Board
Waitemata District Health Board
Counties Manukau District Health Board
EY
Summer of Tech
Nestle
The Treasury
State Services Commission
Ministry of Business, Innovation and Employment
Ministry for the Environment
Minstry of Transport
Ministry for Pacific Peoples
If you are an employer wanting to take part in activities for Māori and Pacific students, please email Pepe Afeaki.