Amy found her passion for running while playing tag with her friends at just five years old! She has now been named in the 2021 World University Games Squad.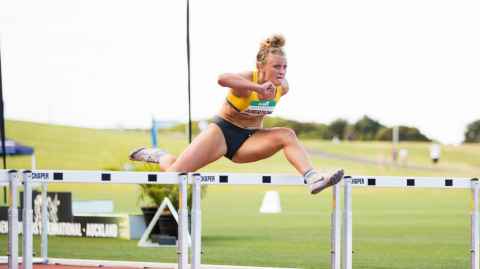 Master of Architecture student Amy Robertson found her passion for running while playing tag with her friends at just five years old. So her parents decided to take her to her local athletics club, which is where it all began. Since then, Amy, a 100m hurdler, has been to the 2019 Oceania Championships, went unbeaten over the 2020/2021 season - including the 2021 national title, and qualified for the 2021 World University Games (postponed). 
Meet Amy
How has the HP programme supported you?
The HP programme's funding towards my Oceania Championships in 2019 was a game changer for me. Being a full time student as well as an athlete it is difficult to also find enough time to work to fund these overseas trips so having the HP programme support me was greatly appreciated. Also having them to help me have an open communication with various lecturers and tutors with understanding my sporting commitments has helped me keep my workload manageable.
What advice would you give to first year you?
Even if you can't see it at the moment, the hard work always pays off!
To date, what has been your career highlight?
Winning the NZ National Championships in the Women's Open 100m Hurdles.
You recently qualified for the WUG. How have you processed the postponement of the WUG and how do you overcome setbacks in general?
It was definitely a great disappointment as it has been something that has been part of a plan that goes back a few years. Having postponements and cancellations is something that many athletes are having to work through and adjust to at the moment. The way I am approaching this setback like any other is to focus on the aspects in my training and performance that I can control and the rest will be what it will be. I am very lucky that I have a fantastic coach who has helped me navigate through this and adjust my goals for the next 12 months.
Why did you first choose your sport?
Athletics in general was really my parents choice but hurdling in particular really chose me! When I was 12 I was thrown into a hurdles race by my coach at the time to gain extra points for my club team – I ended up somehow winning the race and the rest is history!
If you could play any other sport, what would it be?
I would love to compete in cross fit or maybe change it up for a team sport like rugby sevens!
Your favourite sporting memory?
When I won my first national title in the U20 Women 100m Hurdles in 2019. It was a real turning point in who I viewed myself as an athlete and was overjoyed to share that with my parents – it was a very special moment for me.
What is a fun fact about yourself?
I love creating ceramics on my pottery wheel – would secretly love to be a full-time potter.
If you were in an escape room with one other athlete, who would it be & why? (Famous/not famous)
I feel like I would have to go with Sally Pearson, obviously she is a huge inspiration to me but I think the way she approaches her hurdles craft with such a meticulous focus to detail, she would be amazing at cracking the codes in an escape room.
If you could change one thing in the world, what would it be and why?
If people could start to not compare what they have achieved/ haven't achieved to others. I think everyone would be more proud of themselves if we focussed on our own journey and realise that there is not right or correct way to live your life!