First time Paralympian, Anna Steven set a new Oceania record at the Paralympics. Read all about Anna's experience in Tokyo.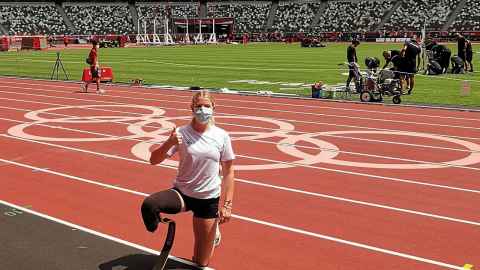 While New Zealand was in lockdown, our athletes were in Tokyo at the Paralympic Games,
captivating us with exceptional performances and evoking so many emotions. It was sport at its best.
Bachelor of Science student Anna Steven made her debut at the Paralympic Games, competing in the T64 200m and T64 100m sprints. Anna only began running competitively in 2016 when she was 16 years old.
"It was pretty surreal, especially since I started athletics less than five years ago! I experienced a full spectrum of emotions, and overall, I'd say it was an awesome opportunity to further my development as an athlete."
The first time Paralympian set off with a bang, securing a spot in the T64 200m final.
"The highlight of the Games for me was running a new Oceania Area Record and making the 200m final on my birthday!"
After running the race of her life in the heat, Anna placed 8th in the T64 200m final, an excellent result on her debut.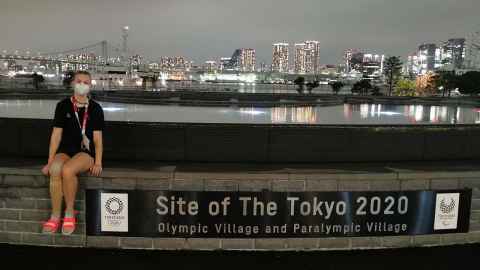 All great athletes are faced with mental challenges of adversity throughout their careers. Anna's 100m heat was one such challenge, which unfortunately resulted in an automatic disqualification due to a false start.
"I've taken it as motivation to work harder and prove myself in future competitions. I knew there was always a risk it could happen, and I'm pretty gutted it did on the day, but I've chosen to focus more on the positive experiences I had at the Games in my main event, the 200m. Advice I would give to other athletes facing a similar challenge/situation is to keep your head up! Everyone will experience adversity of some kind along their journey, but I think the most important part is how you respond to it afterwards and whether you try to learn and grow from that experience."
Paralympians' mental strength and resilience have never been questioned, but we got to see more of that at these Games with so many extra challenges at play.
The Tokyo 2020 Paralympic Games were a little different this time around, and although Anna's support network couldn't physically be there, they still found ways to support her throughout the event.
"It was amazing! My family and friends had a big group call after my 200m heat, before the final and checked in on me regularly throughout the Games."
Anna was able to interact, from a distance, with other athletes, one of them being Athanasios Ghavelas, a Greek visually impaired sprinter who won his 100m with a new World Record! She was also able to trade spikes with her shoe twin (an athlete with the same sized shoe, missing the opposite leg to Anna) and was kindly gifted a new prosthetic blade by Ottobock.
After returning to New Zealand and completing her MIQ, Anna used the time to reflect on her experience at the Games and has started planning her goals for the future.
"I had a chance to think about these in MIQ, and my main goals for the next 3 years are the 2022 and 2023 World Championships and the 2024 Paralympics in Paris (my events aren't included in the 2022 Commonwealth Games). I would like to further improve my Oceania Records and maybe make a podium at these competitions."
This is only the beginning for Anna, and we can't wait to see what's next!