Cat went to give rowing a go with a friend back in 2013 and hasn't looked back since. Now she has qualified for the World University Games 2021.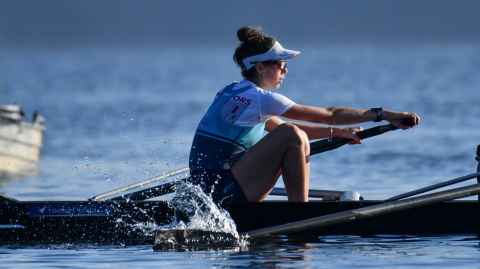 Cat Layburn went to give rowing a go with a friend back in 2013 and hasn't looked back since. After international success, Cat decided to take a small break from rowing in 2020 to focus on her Post-Graduate Diploma of Science (Pharmacology) degree. Since returning to rowing at the beginning of 2021, Cat has picked up where she left off, earning selection for the 2021 World University Games Squad (postponed).
Meet Cat
How has the HP programme supported you? 
The HP programme has supported me throughout my study at UoA with access to career guidance and degree planning, and assistance organising to sit exams out of centre.
What are your aspirations in your rowing, your career and in life? 
Ultimately, my aspiration in rowing would be to represent NZ at the Paris 2024 Olympics.  I hope to put my study to use a career that would contribute to improving people's understanding of health and science.
What do you do to support your own wellbeing? 
I make sure to include some variety in my training programme, plan in rest time during the week, try to see people outside of training (one of the good things about in-person lectures), and be realistic about what I can manage around assignment deadlines.
What is one of your biggest achievements in the sport?
World Rowing U23 Champs in Poland, 2018 was my first big international regatta, so very memorable racing, and a close result in the final.
You were recently selected for the WUG 2021. How have you processed the postponement of the WUG and how do you overcome setbacks in general?
I wasn't surprised by the cancellation of WUG 2021, so it wasn't a big disappointment. Rather than building towards an international regatta, we now have the opportunity to train as a squad throughout the winter (far better than winter training alone!), and build towards a domestic regatta later in the year with the other selected age group teams in NZ, which puts us in a good position to start the 2021-2022 season.
If you could play any other sport, what would it be?
Definitely triathlon – so much variety and I really enjoy long, endurance training and racing! I really want to get into Ironman when I've finished rowing.
If you could have three dinner party guests, who would you invite and why? 
Dr Hannah Wells, Pete Burling, Sarah Ulmer – all different sporting and academic backgrounds so plenty to talk about!
What are some of your major Achievements?
- NZ National Rowing Club Championships Titles: Women's U22 4- (2017), Women's U22 2- and 4- (2018), Women's U22 2- (2019), Women's Senior 2x, 2-, 4x- (2021)
- NZ Universities Rowing Team (2016)
- NZ U21 Rowing Team (2017)
- NZ U23 Rowing Team (2018): Women's 4-, placed 5th at the World Rowing U23 Championships in Poznan, Poland
- Selected into the NZ Summer Squad 2018/2019
- NZ U23 Rowing Team (2019): Women's 4-, placed 8th at the World Rowing U23 Championships in Florida, USA
- NZ World University Games Squad (2021)