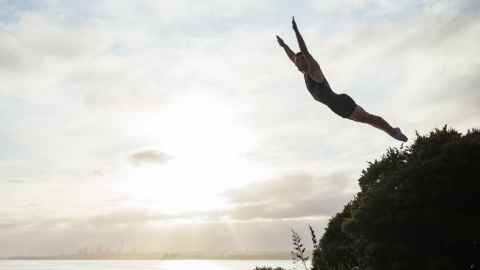 "If you are passionate about something, just do it". This is the advice University of Auckland student and Olympic Trampolinist Dylan Schmidt has been passing on to school children in his new role as a New Zealand Olympic Committee Ambassador.
It's advice that Dylan, who has recently completed his Bachelor of Commerce degree, has followed himself since he first started Trampolining 'officially' with a club at age 5.
Trampolining is, in Dylan's words, "not the most conventional sport". Rocking around in a leotard and long tights may be about as far as you can get from the ingrained, but thankfully outdated image of a NZ male.
Dylan isn't conventional though, well not in the sense that he was happy to follow the easy path through life. He could never see himself as the type of person who would be working a 9-5 job and going out in the weekends. Trampolining provided the challenge and competition that Dylan so desired. A passion was forged, and there has been no looking back since.
Dylan's career took off in 2014 when he won gold at the Youth Olympics. He then became the first New Zealand trampolinist to compete at the Olympics (Rio, 2016) at just 19 years old.
The step up from junior to senior was a big leap. Dylan went from podiuming in most events to being well down the field if he made a mistake in his routine. The move to the senior ranks saw many of Dylan's international junior competitors give up the sport. In Dylan's words, it's "easy to get caught up in life and throw sport out the window".
University is one of the many layers to 'life' that Dylan added in 2015. He says identifying university and Trampolining clashes, then resolving these in person with his lecturers, has been a successful method to managing his dual commitments as a student-athlete. He also found studying part time to lessen the pressure on himself has helped with his overall wellbeing.
When asked what his goals in Trampolining are, Dylan doesn't mince his words. "I want to win" says Dylan on his ambitions for Tokyo 2021, Paris 2024 and perhaps LA 2028. "You don't do the sport not to win". It's this type of attitude that is required to be the best, and a message that Dylan will deliver as a New Zealand Olympic ambassador to inspire future athletes.