Isla regularly competes at an international and national level in touch, rugby and rugby sevens, and was named the University of Auckland's Sportswoman of the Year for 2019. All while studying a Bachelor of Sport, Health & Physical Education.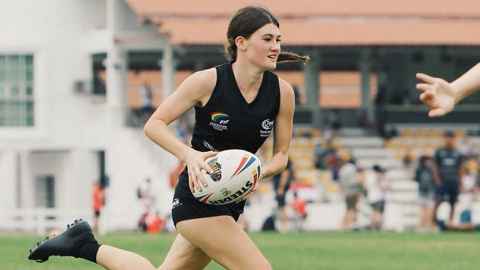 Isla Norman-Bell has been breaking the mould since primary school, and has no plans of stopping anytime soon, with the Olympics firmly in her sight.
The first year student, whose Poppa played International Rugby for Scotland, grew up playing Rugby against all boy's teams in Rotorua after a coach spotted her speed on the Touch field. It was those Touch fields playing with her mum in the beautiful Bay of Plenty that Isla's love for oval ball sports blossomed.

Speaking with Isla, you can feel the fondness of those community Touch games come out as she speaks of them. It is no wonder that this sense of belonging and community from Touch has grown into a lifelong passion for sport, both as her choice of university degree and her continued success on the national and now international stage.
This passion has a feisty streak though, as mentioned by many of her coaches. Fiercely competitive and always striving to fulfil her potential as an athlete, Isla enrolled in a Bachelor of Sport, Health & Physical Education. This choice enables her to learn more about the human body and athletic performance for herself, and to support others involved in sport. 
Isla's 2019 year, sporting wise, has been nothing short of remarkable. After being named MVP of the Red Bull Ignite7 Rugby Seven's tournament in late 2018, Isla earned a place on the NZ Women's Sevens Development team to tour internationally in early 2019, playing other development teams and fully-fledged national teams. Isla played for the NZ Open Women's Touch team at the World Championships in Malaysia earlier this year, and was in the 2019 Vodafone Warriors Women's team that played in the NRL Touch Premiership. Topping off the year, Isla starred on the wing for the Auckland Storm in Rugby's Farah Palmer Cup, playing with and against some of her national representative sporting heroes.
How does one balance three different sports while in their first year of university? Isla puts it down to building a strong support network and planning out her weeks in advance to find times to fit study around training. One of the High Performance Support Programme's priorities is assisting students with managing their time around study, and Isla has been a fantastic example of putting the support and advice into practice. 
Isla's motivation to keep improving at what she loves, puts her in good stead to achieve her ultimate childhood ambition: To play for the NZ Women's Sevens team at the Olympics. For Isla, all other sports are now centred around improving her rugby sevens skillset.
Those fond childhood memories of running around on the touch field haven't gone anywhere though. The dream is to be back out on the touch field one day in a family team of her own, with an Olympic medal sitting back home on the mantle piece.