Kate Burley's dream of becoming a Silver Fern is in sight as she is named in the Silver Fern development squad as well as in the Northern Mystics 2020/2021 squad.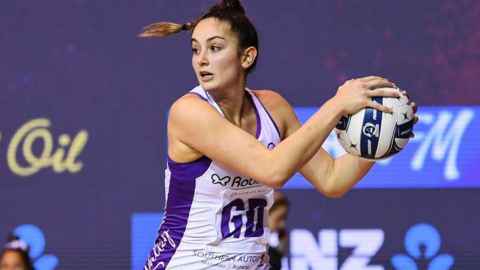 Tell us a little about your university and netball journey so far?
I've been with the Northern Stars (in the ANZ Premiership) for the past four seasons and am now part of the Northern Mystic squad for 2020/2021. I'm very grateful to have been a Silver Ferns development squad member for the past two years and hope to continue to keep relishing my opportunities within the high-performance environment. 
 I've spent a little bit of me finding my groove at university. I started in the Hikitia Te Ora programme and doing a BSc in Biomedical Science, as I initially had the aspiration to get into the medical programme. I was grateful enough to get an interview for medicine but unfortunately did not make it into the programme, so I transferred over to Nursing (with the intention of applying to medicine as a post-graduate student). Due to the demands of the ANZ premiership, I was unable to continue in the nursing programme as studying full time was becoming very difficult.  I am currently studying a BSc majoring in physiology & psychology part-time and am absolutely loving it! Although I have had my fair share of changes, I finally feel as though I am on the right path & am excited to see where this takes me!
What are some of the strategies you use to balance both your netball and study? 
Making the most of our travel time - I make sure I've downloaded a lecture before we fly so that I can write notes during the flight. I also try to study in any downtime I have when I'm in camp so that I can keep up to date with the content! 
What reflections and learnings have you taken from 2020 so far? Have there been any silver linings or unexpected opportunities?
I've learnt to appreciate those close to me, sometimes with my busy schedule; I can forget how easy it is to take my friends and whanau for granted. At the end of the day they are the most important aspect in my life, so I owe them the energy they deserve! Lockdown was an awesome opportunity to spend some quality time with my partner and whanau. 
What advice would you give to a first year you/younger student-performer on managing performance, study and wellbeing? 
Not to compare your journey to those around you and that everything happens for a reason. So if your path at university changes or is taking longer than you expected, go with it. It will all work out in the end! 
What are your aspirations in both your performance pursuit, your career and in life? 
My ultimate sporting goal is to become a Silver Fern. My goal in life is always to be doing what I love, and not to base my success off how other people perceive me.