Postgraduate Diploma student, Elizabeth Anton signed her first professional Football contract for the 2020/2021 season.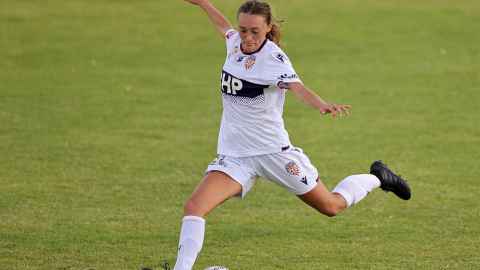 Liz recently completed her Bachelor of Science majoring in chemistry at the end of 2020 and is starting her Postgraduate Diploma in Semester Two 2021.
Liz started playing football at just 9 years old and now has her first professional contract playing for the Perth Glory Women's team. She has had a number of achievements over her football years including:
- 5 international caps for New Zealand Women's Football Ferns (2017-2018).
- Vice-Captain of New Zealand U20 Women's World Cup team (2017-2018).
- New Zealand U20 Women's World Cup team (2015-2016).
- New Zealand U17 Women's World Cup team (2013-2014).
Interview with Liz
What are some of the strategies you use to balance both your football and study?
Planning is a tool I use to keep me organised and to help me utilise my time efficiently. Every night I make a daily plan for the next day, firstly outlining training and travel time and then scheduling in study blocks. I also plan by week and month, so I know when I may need to get my study done earlier/get exemptions, so it won't affect my performance. 
What High Performance Support Programme support have you found to be helpful while at university?
The ability to have alternative exam arrangements has been really important as there have been situations when my exams clash with overseas competitions. Having done these exams overseas has been great as it has allowed me to complete my degree in my desired timeframe. Also meeting with the Science Support Adviser to help me with degree planning and how this looks with part-time study has helped keep my degree completion on track.
What do you see as your strengths in performance/university/life?
Managing stress has been something that I have learnt a lot about when balancing uni, life and sport. I have got a lot better at this since my first year of uni. When I'm stressed, it has a direct negative impact on my academic and football performance, so making sure I know how to recognise and manage myself when I feel this way is important.
What advice would you give to first-year you on managing performance, study and your wellbeing?
To not get overwhelmed and ask for help if you need it, whether that's a classmate, lecturer or HPSP adviser. 
What are your aspirations in your football, your career and in life?
My aspiration is to continue to play football at a professional level whilst building a lifestyle that I can enjoy and be proud of. I'm still unsure of what my career after football will be like, but I would love to work in the green chemistry or medicinal chemistry field.
What was the process/journey of getting a professional contract over in Australia? Did you have any support along the way?
To be honest, everything happened really quickly. I had a phone call from NZF saying that it was a possibility, then two weeks later I was in Perth. I thought that my boat had sailed in regards to being involved in the W-league this season, but I was lucky in the fact that Perth Glory FC were a bit late getting a team together as there were delays in the process due to Covid-19. 
Gemma Lewis (FFDP head coach) and Tom Sermanni (Football Ferns head coach) were both very supportive in regards to answering any questions I had which made the quick transition a lot easier, and I credit them to organising my first professional contract with Perth Glory this season.