White Sox pitcher and nutrition student Loran Parker is taking special care of herself - and her softball team-mates - with the goal of playing for NZ at the 2028 Olympics.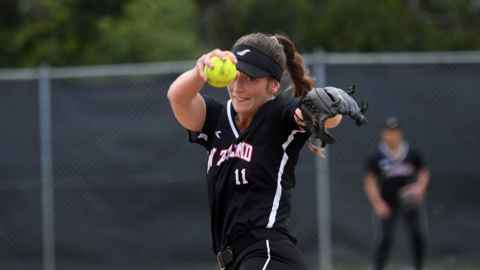 Article written by University of Auckland student, Stella Mackrel. Stella is also a member of the High Performance Support Programme.
When you see Loran Parker standing at the pitcher's mound in Auckland this weekend, she'll probably be wearing a face mask.
But it's not the kind of protection now mandatory on public transport.
The White Sox pitcher has taken to wearing a steel face guard to help keep herself injury-free.
"I don't know if there's anyone else in the Auckland league that's wearing a face mask at the moment," says Parker, who's playing for North-South in the Fastball 45 competition starting this weekend.
"I decided last season that I was going to start wearing it, because honestly the bats they're making now have so much pop, I just can't see the ball coming off fast enough to react to it anymore."
Parker believes that wearing face masks in softball is the future. She's seen while playing in the Netherlands, where most of their in-fielders wear masks, and she'd like to see it in New Zealand too.
And she wants to be fit and healthy for the future - as she looks ahead to qualifying for the 2028 Paris Olympics. 
In the meantime, Parker is looking forward to playing in the second season of the Fastball 45 – a higher-paced more intense version of softball.
"Honestly the F45 competition was a massive highlight last season so I've been really excited to play it again this year especially as there's a chance to play the top teams from other regions," she says. This season it's expanded out of Auckland to include Hutt Valley-Wellington and Canterbury teams, with the top teams from each region playing in a national final next month.
Parker once believed people only went to school to play softball. Today, the New Zealand pitcher and fulltime University of Auckland student manages to excel in both.
Parker began her softball journey at the age of five; watching her older brother play t-ball that sparked her interest. She remembers coming home from her first day of school, "quite annoyed because we didn't even play t-ball," she says.
She hasn't always been a standout player. As a child, Parker's mum would ask her every season if she was sure she wanted to play t-ball again.
Her mum later admitted "you were kind of the worst person on the team," Parker recalls. Parker wasn't fazed.
Her love for the sport and its community is still a driving factor that pushes her to exceed expectations.
"Even though no one else in my family still plays softball, I feel like I have my own little softball family," she says. "I love the training. I would definitely be the person who turns up early and says 'I need a catcher, someone please come and train with me'."
"I don't know why I like it so much, I think it's just fun, you can see improvements every training and I like that positive feedback."
Some of Parker's other notable achievements include a full ride scholarship, covering all her expenses to Eastern Arizona College straight after graduating from high school, a contract to play in Holland for a Dutch club UVV Utrecht and being a recipient of a Prime Minister's athlete scholarship.
As Parker finishes her final semester in her Bachelor of Science degree, majoring in nutrition, she hopes to qualify to complete her Masters in clinical dietetics. Otherwise, she'd like to work with community groups like Diabetes NZ or the NZ Heart Foundation.
In her first year at university, Parker took population health papers that opened her eyes to ways in which poor health and disease can be prevented within communities. "I like the idea that you can prevent someone from getting something, before it turns their world upside down," she says.
Parker also uses her knowledge to help her softball teammates, by providing ideas to try to improve their health through nutrition, or "just throwing out facts and whatever gets picked up, gets picked up."
She's just been added to a new initiative, the national female battery programme for pitchers and catchers who've been identified as potential contenders for the next Olympic Games qualifiers.
Each week, Parker has a total of three pitching training sessions, two team trainings, one White Sox training and a few strength and conditioning workouts. She also works as a physio receptionist for three hours Monday to Friday, and then has to fit in her fulltime university studies around all of that.
"I like trying to prioritise things. If I have an assignment due, I'm just going to have to skip training to get the assignment done. Or if it's just a lecture in the afternoon I'll probably just skip the lecture so I can train and catch up on it later," says Parker.
Parker understands being a high performing student athlete can be tough. "I haven't got a lot of time to do things outside of uni and training, so being social is sometimes a bit difficult," she says.
"It's mentally taxing too, because I feel like I'm stressed all the time. I'm like, 'I've got to get this done, and this done, and I've got these things to achieve and I've got these deadlines'… I feel like mentally, it's more tough than physically."
But it's her training that takes care of her mental stress. "No one in the team ever takes you super seriously, everyone is making fun of each other… it's a really good vibe to be in, so it definitely takes you out of your head," Parker says.
Having studied in the United States and in New Zealand while playing softball, Parker has an appreciation for the support offered by her universities that have allowed her to continue playing at an elite level.
At Eastern Arizona College they had mandatory study hours and grade check-ups to make sure athletes were on track with their degrees. Back in New Zealand, Parker is part of the high performance support programme offered by the University of Auckland to help athletes manage their studies and sporting commitments.
"I had a situation a few weeks ago where I was absolutely freaking out. I had two midterms and five assignments, which were all due within two weeks of each other and I was going 'I can't do it!'" she says. "So they managed to get me a couple of extensions and honestly it saved my life."
When Parker flew to Holland to play for seven weeks during one of her semesters, she needed to take her exams with her. "I just had to find a university over there that would let me sit my exams. Basically, Auckland Uni and the university in Holland communicated with each other, and all I had to do was turn up on the day, so it was really easy," she says.
"If I wasn't able to move those exams when I went to Holland, I just wouldn't have been able to take up that contract. It allowed me to pursue something that I had wanted for a few years and to continue my degree, so that was really cool."
At the moment, the White Sox are focused on preparing for the Olympic qualifiers in 2026, if softball makes it back into the Olympics for 2028. It's their six-year plan, and it's Parker's goal to make that team.
There is no doubt that Parker will still be playing softball in six years time. "Honestly, I feel like I'm going to be that 80- year-old grandma who's still out there like, 'gimme the ball coach!' ," she laughs. "I don't really imagine my life without softball."
Story originally published on LockerRoom and is republished with permission.