With a World Cup gold medal for Taekwondo, a recently completed Bachelor of Laws (hons) and a part time job as a stunt double for the lead actor in Peter Jackson's Mortal Engines, Riley Phillips-Harris has left an indelible legacy at the university.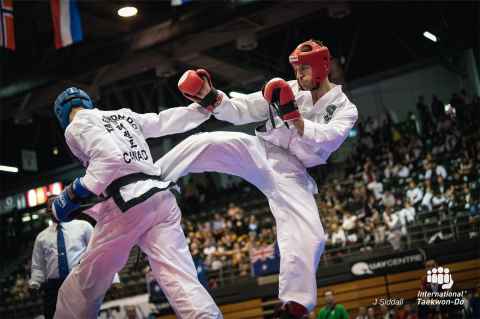 "What do you want to have as a testament to your time at university?" The 2019 UoA Sportsman of the year, Riley Phillips-Harris, on squeezing every last drop of opportunity from his time at university.
Now back home in the Bay of Islands, Riley can close the book on his time at UoA. A time where the orange has been well and truly been squeezed. His impressive university resume includes a Bachelor of Laws (hons) and Bachelor of Arts alongside a Taekwondo career that has already included a world #1 ranking, world championship and world cup medals. Riley has also managed to carve out a path as a successful stunt double. His recent escapades include being the double for the lead actor in Peter Jackson's Mortal Engines. Not bad from a boy who grew up in the self-described 'boonies' on a farm near Kerikeri with no electricity for much of his upbringing. Fortunately for you, and me, the family decided to install internet last year making this Skype interview and the below pearls of wisdom from this outstanding, driven, yet very grounded young man possible.
When talking to Riley you feel a sense of calm and composure being imposed on you. It's infectious and inspiring. Riley exudes a deep-seated desire to excel in the areas that resonate most strongly with him. The areas that resonate with Riley relate to his upbringing. An upbringing that curated a strong connection to the ocean and whenua, an awareness of oneself through the natural and organic movements of Taekwondo and Ballet and an appreciation of others and the world in relation to himself. 
From the outside, Riley's upbringing and current plans to take a role at a top commercial law firm in Sydney, while still making forays into stunt doubling, seems light years apart. This couldn't be further from the truth. In this interview Riley continually mentioned 'falling on your feet' or seizing an opportunity when it presents itself. A last-minute decision to 'put his name in that hat' for Law at UoA, given his love for reading and writing, saw a passion for the Laws blossom. An attitude that 'if I'm going to have a crack, I'm going to give it everything" coupled with his innate competitive nature reaped academic success. Riley's dissertation was on protecting an individual's privacy rights and abuses of power by big data companies such as Google and Facebook and the legality of lethal autonomous robots. This highlights the influences his upbringing has had on his academic study. It also shows how he has been able to connect his degree with an individualised purpose that gives meaning to him beyond external motivation. This is an important reminder to anyone that when chasing opportunities, those that align with the internal 'you' will reap longer term success, both internally and externally.
Riley (and most university graduates) will tell you that you will never be freer than at university given the relatively flexible study schedule when compared to a standard 9am-5pm job. Riley identified this flexible study schedule as an opportunity to really squeeze the university orange dry of all it had to offer. Riley has juggled a Laws degree, hours of countless Taekwondo training and international travel to compete against the best in the world alongside a burgeoning job as a stunt double, while still having time for family and friends. This juggling act has been a learning curve that Riley says saw him "crash and burn a bunch of times along the way".
"Discipline equals freedom of opportunity." Riley quotes Jocko Willink (look him up) when asked how he has managed to do so much in his time at UoA. Discipline is crucial to achieving consistency, which is a must when looking to achieve long term success and it's something Riley not just understands but puts into practice. He adds that "being able to roll with the punches" (pun intended) and having flexibility in your schedule to fit in the training hours required for success bit by bit, when and where possible, is
necessary given that all plans will change.
Riley says his 'crash and burn' moments happened when he became consumed by a narrower set of options, and for the most part socialising or having time for friends and family slipped from his priority list. Looking back on it, Riley describes this as "terrible" and calls it unhealthy for anyone to avoid socialising as we are inherently social beings. Riley says, "all ships rise with the tide", meaning by scheduling in lunches or other activities with friends and family, while maintaining "flexible discipline" in his study, sport and/or work he has seen increased success across all his priority areas and most importantly his own wellbeing. If he's happier when hanging with friends, he goes to training feeling more inspired and driven and has less resentment towards what he may be missing out on.
Riley's philosophy that "pressure forges diamonds" will not resonate with everyone reading this. It is important to ensure you review and identify methods that work for you personally and that those methods are implemented into your weekly structure or schedule. Riley suggests that everyone should spend time reflecting on what is important to them and to focus their energy into those areas. Riley emphasises that everyone needs to find a structure that works for them and to understand that themselves as individuals, their priorities and influencing factors will constantly change.
The UoA High Performance Support Programme was set up because it recognised the difficulty in balancing university life and study while performing at an elite level. The programme aims to cultivate success academically and in their chosen high performance pursuit while improving individual wellbeing. Riley spoke of finding the High Performance Support Programme and how it's recognition that what he was juggling wasn't easy and that there were people and structures in place to support his juggling act so he could achieve greater success across his chosen pursuits. Reflecting on his attitude during his early years at university, Riley thought he could, and should, be shouldering all the burden without asking for support, advice or help when it was needed. By reaching out and communicating with friends, coaches, lecturers and other university support staff (via assistance from the High Performance Support Programme) about what he was juggling there was an understanding and softening in their view as to why Riley was absent or worn out. For Riley the High Performance Support Programme meant that he could continue performing at an elite level without having to sacrifice other interests or his own wellbeing.
So, what's next for Riley Phillips-Harris? A summer in the Bay of Islands spent on his yacht prone to springing a leak is in his immediate future. 2020 presents several options that includes stunt doubling work, a Sydney law firm and pursuing a potential newly minted Olympic Sport in the form of WAKO kickboxing.
Further down the track Riley sees a career that protects the 'little guy', be it people or the environment, with international environmental law as a strong possibility. Riley's other dream is to sail around the world, hopefully in a boat that is less likely to spring a leak than what he owns currently.
Wherever or whatever this driven and talented young man ends
up doing, it can be confidently testified that his time at the University of Auckland has been nothing short of remarkable.