Will Guest, found his passion for Bobsleighing, after a stint of CrossFit. The team is sitting in an Olympic qualifying position!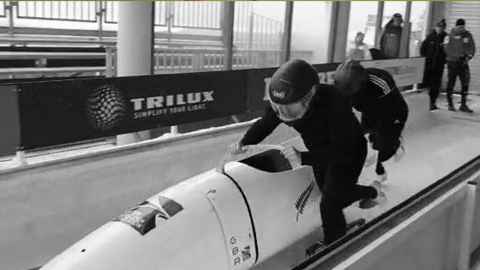 Tell us a bit about your sport and your degree
My background is actually in rowing, which I competed in for 10 years through high-school, and through my engineering studies at the University of Auckland. I left rowing and was looking for a new sport, and through a few connections found Bobsleigh after a stint of CrossFit. I then moved to Europe for further study and got more exposure to the sport, and have been in love with it since.
Currently my role in the team is a 'Brakeman', who is a person who pushes the sled from the back at the start and applies the brakes at the end of the run. I am looking to become the pilot, and becoming the one responsible to keeping the bobsleigh upright the whole way down the track.
 I am currently studying a Masters of Engineering Management at the University of Auckland.
What is one of your biggest achievements in the sport?
We competed in the North American circuit in January 2020 and placed a NZ best of 9th behind some quality USA, British, and Canadian teams. We as a result are sitting in an Olympic qualifying spot.
What are some of the strategies you use to balance both your performance pursuit and study?
I have found that since my trainings are power based, and spread between the gym and track & field training, that I prefer training in the late afternoon when my body feels most awake. I make up for this by getting up early to get through study that needs my attention.
What advice would you give to younger student-performers to manage their dual pursuits?
This is dependent on your goals. Scale your grade expectations to what you want to achieve in your chosen sport. If you want to push the limits of your sports look for opportunities to spread your degree over a longer period so you can commit to your training, and not suffer academically.
Have fun, don't worry about taking the time to go and make friends (especially at the start). It is important to not just hang around with athletes all the time to give you a fresh perspective.
What do you do to support your own wellbeing?
Take the time to chill out and hang with people who aren't athletes. Also finding people to train with is always a positive.
What/who motivates or inspires you?
Luckily, I have a strong team of athletes that motivate me to improve myself. I am the youngest in the team and have a lot more development ahead to keep up with the others!
What are your aspirations in both your performance pursuit, your career and in life?
Currently the plans are for me to go to South Korea for a month at the start of the 2021/2022 season (Sept-Oct) with the team for a series of training camps, then to compete on the Olympic qualifying circuit across USA, Canada, and a couple of tracks in Europe.  Both the Beijing 2022 and Milano Cortina 2026 Winter Olympics are on the team's radar.
I am currently finishing off my engineering masters so will be aiming to find a flexible working arrangement with an engineering firm to enable to me to both work, train, and compete.