Sawana, hailing from the Commonwealth of Dominica, graduated with a Master of Disaster Management with First Class Honours in 2017. She received a New Zealand Scholarship and now works in disaster relief for a leading NGO.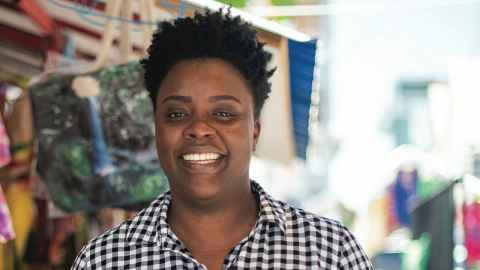 Community
"Climate change affects my home region in a huge way. Disasters are expected to rise at an exponential rate if the issues of environment and climate change aren't addressed. The experience my country had been through during and post disaster Tropical Storm Erica in 2015, motivated my course of study. Communities were displaced and access to the city was cut off as all our highway bridges collapsed due to river floods. The country was highly impacted economically and socially. I needed a course of study that would allow me to be part of the change that Dominica needed around the issues of disaster risk reduction and climate resilience.
"The University of Auckland ranks in the top 100 universities in the world and is far away from Dominica, which offered a diversity of perception and way of life. New Zealand has been exposed to similar disaster risks that my country faces, but has been recognised for its research-informed disaster management policies. I thought the University would be the best place for me to prepare for a role influencing policy relating to disaster risk reduction and community resilience.
"I benefited significantly from the New Zealand Scholarship I received and was well looked after by the folks at the International Office. Even when I went through one of the toughest times in my life, losing my dad while being across the world, the scholarship allowed me to return home and the student support team made the necessary arrangements so I could complete my studies."
The main benefit I gained from studying at the University of Auckland was the amazing network of fellow New Zealand Scholars. We stay connected and share knowledge and ideas, which speaks to the global community we live in. My experience at the University of Auckland was life changing for me.
Career
"I am currently Education Programme Manager of IsraAID – a leading humanitarian non-governmental organisation, committed to providing life-saving emergency relief and durable solutions for populations affected by natural disasters, epidemics and post-conflict situations.
"Initially I worked with IsraAID Dominica as a Disaster Risk Reduction Specialist, supporting the recovery of the Ministry of Education and the school system in Dominica after the devastation of Hurricane Maria. I was then promoted to my Education Programmer Manager role, leading the Safe School Programme in partnership with IsraAID and UNICEF in Dominica, reaching over 10,000 children. Now every school in Dominica has an emergency operational plan, all teachers on the island are trained, and school and national drills are being conducted.
"My advice for future international students is to capitalise on the on the seminars and events you will be invited to. Your lecturers and network will give you access to amazing opportunities. Step up in boldness and disregard any fear that might keep you from experiencing greatness. New Zealand will always be the best place to study on earth – nature, warm people and a top-class education will confirm you made the right decision."
In January 2019, Sawana joined a panel with Hilary Clinton at a plenary session during the CGI Action Network on Post-Disaster Recovery in Puerto Rico. Watch the video below of Sawana speaking with former US Secretary of State Clinton, including Sawana's perspective on disaster response after studying with the University of Auckland (go to 17:23 minutes in).