Meiqin comes from a small village in western China and had never flown on a plane before her research collaboration with the Three Brothers project. She completed her PhD in Science from the University of Auckland at the School of Environment under the supervision of Professor Gary Brierley.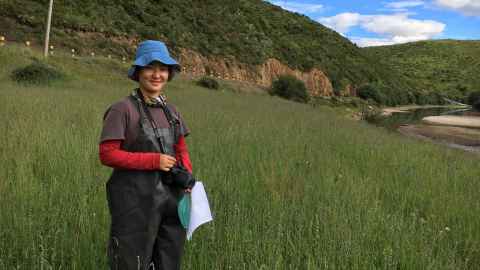 "My name is Meiqin Han. I am from the Salar people, one of 55 ethnic minority groups in China, from Xunhua Salar Autonomous County in Qinghai Province, western China. Qinghai Province is known for its ecological significance in China, as the source of three major rivers of China and Asia – the Yangtze, the Mekong, and the Yellow River.
"I was very interested in studying river science because local universities were more focused on paleo-environments and grassland science, while rivers as pulses of ecosystems were overlooked. I met my PhD supervisor, Professor Gary Brierley, at an academic conference at Qinghai University where I did my masters degree. His presentation and work showed me the great opportunities in studying river science, understanding the value of rivers and how can we look after them. I also learned about the 'Three Brothers' research collaboration between the University of Auckland, Tsinghua University and Qinghai University.
"My PhD project focused on river biogeomorphic interactions and succession in the Upper Yellow River, and my study provided fundamental knowledge for river management and protection. I received funding from a programme developed between the China Scholarship Council (CSC) and the University of Auckland to foster long-term research cooperation. The financial help allowed me to focus on my PhD project without anxiety about tuition fees and living costs.
"I enjoyed Auckland's free, fair, diverse and inclusive culture, and I made friends from other Asian countries, South America, Africa, Europe and New Zealand. It was great to have friends on this long journey – we supported each other so much.
"My experiences at the University of Auckland not only gave me strength in my field, but also made me more open-minded, resilient and inclusive. Academic work is a hard journey, and having a good understanding of the field and relevant techniques is critical in my future career."
Professor Gary Brierley, Chair of Physical Geography in the School of Environment shared the following about Meiqin and her research:
"Meiqin works in applied physical geography – she calls herself a biogeographer. Her work explains how vegetation influences the character, behaviour and evolution of rivers, in particular the Upper Yellow River – the mother river of China. The Chinese government is overseeing a massive programme of environmental protection in this area, with unprecedented scales of conservation and rehabilitation techniques. To have the University of Auckland involved in this work is a real privilege.
"Institutional arrangements through the Three Brothers research collaboration facilitated this work. Three Brothers provided the pathway to negotiate with key personnel in national and provincial governments. This truly represents a merging of interests around a singular concern for environmental issues – a desire to protect environmental values in this really important place.
"The contribution of international students to the University's research landscape is integral to the future profile of our institution. This is all about partnerships and networks, shaping and creating future agendas. These students are future leaders. New Zealand, and the University of Auckland in particular, are superbly positioned to take generative steps to support new endeavours and interactions.
"Being able to share in Meiqin's journey as a doctoral candidate at the University has also been a great privilege. From seeing her deal with the challenges of transitioning to life in Auckland, watching her confidence grow at global workshops, to the joy of her first international publications and impressive PhD oral defence – Meiqin's drive, persistence and cultural nous has been incredible to witness."