Tiancheng is a PhD candidate in the Faculty of Education and Social Work. He started his research from China during the Covid-19 pandemic, then entered New Zealand as part of the government's border exception programme.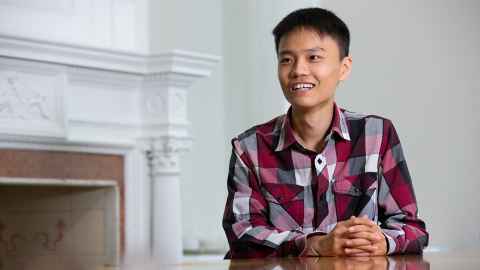 "Back in early 2020, I was excited to start as a PhD candidate at the University of Auckland. I had purchased my plane ticket from China to New Zealand for 2 February but, unfortunately, my flight was cancelled due to the outbreak of Coronavirus. New Zealand then issued a travel ban on people travelling from mainland China, making my planned trip impossible. Luckily, my supervisor and the University allowed me to enrol from overseas the following month. I am so grateful for their kindness, otherwise I would have wasted a year.
"In terms of support, the University provided a VPN service for offshore students, which enabled me to have easy access to the online library and my email account. They also connected me with a study buddy who helped me a lot, and AskAuckland was always ready to answer my questions. My supervisors were very patient and gave guidance on how to write my literature review and research proposal. A lot of workshops were available online, which enabled me to enrich my knowledge.
"When I was eventually able to travel to New Zealand, MIQ was well organised and everyone there was very friendly. What impressed me the most was my supervisor, Associate Professor Erlam, mailed gifts to me in MIQ. Her thoughtfulness and kind words moved me and relieved my homesickness."
"My life in Auckland is great. I enjoy talking to people from different cultural backgrounds and have made new friends to travel with on weekends. What I enjoy the most are Auckland's beaches as my hometown is in Inner Mongolia, very far away from the sea.
"I want to be a teacher at a university in China once I complete my PhD. I want to share what I have learned and my experience at the University of Auckland will enable me to be better prepared for academic research in the future.
"My research is about using a statistical tool to understand and improve the DELNA (Diagnostic English Language Needs Assessment) listening assessment. DELNA is a diagnostic language assessment, and it is compulsory for all first-year undergraduates and PhD candidates at the University of Auckland.
"The outcomes of my research will provide better diagnostic results for DELNA participants and language advisers. With more detailed feedback, language advisers can provide more practical guidance for students who need to improve their academic listening skills. This research will also demonstrate the feasibility of Cognitive Diagnostic Assessment in language assessment."