Meet Atif from India, a recipient of the University of Auckland International Student Excellence Scholarship, who is now pursuing his dream of becoming a change-inspiring transportation engineer.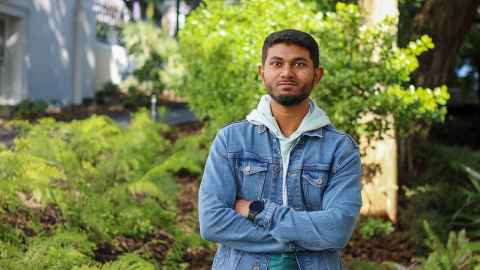 Name: Atif Ahmed Ibrahim
Home country: India
Degree programme: Master of Engineering Studies
Specialisation: Transportation Engineering
Scholarship: University of Auckland International Student Excellence Scholarship
A civil engineer by profession in his home country of India, Atif wanted to pursue further study at a university with a stellar reputation. Once he decided to study in New Zealand, the University of Auckland was immediately his first choice.
Even after applying to study at the University, everything felt like "an ambitious priority" to Atif. But after he received an initial letter of acceptance from the University, and the opportunity to apply for the University of Auckland International Student Excellence Scholarship presented itself, his ambition looked more achievable.
With support and encouragement from his student consultant at that time, Atif wrote his statement of purpose and submitted his scholarship application. When he was notified about his successful application, he was so happy and immediately shared the news with his parents. "My parents were extremely delighted. My father was really impressed by this achievement of mine," he says.
I hope to establish a platform that will help improve gender equity and instill sustainability in the field of transportation engineering and make New Zealanders' lives and the lives of future generations easier and greener.
"The scholarship provided me with a significant boost in motivation as an international student. It really drove me to accept my letter of acceptance at the University of Auckland and embark on my journey as a transportation engineer in Auckland."
Atif is currently on his second and final year of the Master of Engineering at the University of Auckland City Campus.
He says the best part of my programme is learning about the sustainable transportation facility designs to encourage people to use active modes of transportation or public transportation, as well as policy drafting on internal combustion cars in order to reduce emissions and create a pathway for a greener future.
"My professors at the University of Auckland rank among the most skilled and well-known transportation engineers, not just in New Zealand but also worldwide. My supervisor, Dr. Bevan Clement, greatly influenced my decision to pursue a research project focused on active transportation modes, like walking and cycling, giving these users the priority to have better and safer infrastructures throughout New Zealand.
"I am really passionate about bringing in the balance between futuristic planning and addressing the current problems. I hope to establish a platform that will help improve gender equity and instill sustainability in the field of transportation engineering and make New Zealanders' lives and the lives of future generations easier and greener."