Bioengineering is the application of engineering sciences and technical innovation to human physiology and medicine.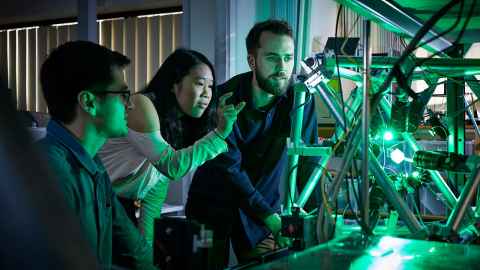 Subject overview
Whether you have a desire to improve healthcare systems, develop new medical devices, make a new discovery, or work in a commercial environment, Bioengineering may be able to provide you with opportunities to do all of this.
You will be conducting hands-on research at the Auckland Bioengineering Institute (ABI) on a project that you have agreed on with your supervisor. The research areas at ABI range from biomimetics to women's health, and your project could be focused on one or more of these areas.
With your project, you could be unravelling the mysteries of the human body using 3D modelling, exploring the potential of artificial intelligence or developing tools for better stroke rehabilitation. These are just examples of some of the things that Bioengineering can offer you. The findings that stem from your PhD may change and challenge existing knowledge and technology; your research could potentially provide a solution for real-world problems.
Bioengineering aims to develop skills that enable you to conduct research independently. These include critical thinking, problem-solving, presentation and writing skills, which can be useful in your future careers.
Where can Bioengineering take you?
Bioengineering can open doors to a multitude of career opportunities. These could be in research or industry. You may also have the opportunity of establishing your own start-up. ABI has acted as a hub for over 10 successful spin out companies in the last 5 years, supporting them in getting their products to the market.
You could seek employment in the medical and clinical environment, or with companies specialising in software development/product design, medical technologies, data analytics and imaging.
Explore your study options in Bioengineering