Design looks at creative ways to solve problems and innovate for the future.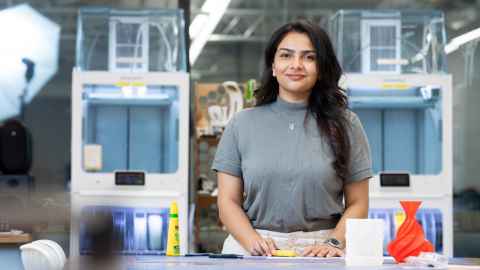 Subject overview
The practice of design has dramatically evolved in response to emerging technologies and the growing need for industries to respond to a rapidly changing world. Across all business sectors, employers seek designers who can create solutions to complex problems – through creative making, entrepreneurial thinking and consideration of all potential outcomes. There's a wealth of opportunity for skilled designers in business, health, science, art, entertainment, manufacturing and other industries.
By studying Design with us, you'll become adept with new techniques, tools and methods. You'll imagine, create and test solutions for both immediate and future scenarios. You'll engage with real projects in partnership with both peers and industry professionals. In this way you'll create positive change in local, communal and global contexts.
The University of Auckland is New Zealand's most innovative university.* Our studio-based learning environment, fully-equipped workshop and digital resources will help you to bring your ideas to life.
*Reuters Asia Pacific's Most Innovative Universities 2018
Where can Design take you?
Design graduates are in demand in all sectors of business and help advance other fields such as health, science and entertainment. Design is a rapidly expanding field, as industries look to prepare for uncertain technological developments. Design graduates will be equipped to work as strategists, analysts or designers of service, experience, or products.
Explore your study options in Design