You can combine the literary study of drama with experience in all aspects of performance.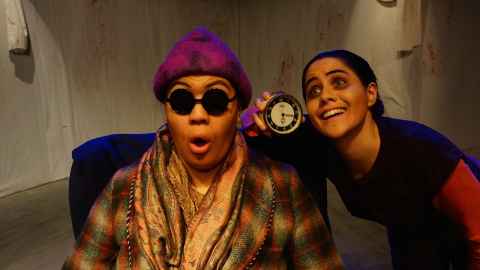 Subject overview
Drama focuses on both the analysis of text and creative performance. Through Drama, we examine the world of yesterday and today, and discover stories about the society, people and periods in which they were written. While studying Drama, you learn to be someone else and appreciate the worldview of others. You develop the ability to analyse, discuss and write about: dramatic texts as both literature and as texts for performance; investigate and research a variety of dramatic forms from various periods and styles, such as the Ancient Greek period; explore contemporary world and New Zealand drama; and understand the processes of dramatic production and rehearsal.
We offer students text and theory-based teaching, as well as practical learning. In addition to University staff, several outside theatre practitioners contribute to courses at all levels. For instance, an outside professional typically directs the Stage II production experience. First-year classes vary from large lecture classes looking at drama on stage and in film to practical study in Māori, Pacific and modern dance. Stage II full-year courses include staging a full-length play, and Stage III Drama can involve improving your performance and production and management skills.
Where can Drama take you?
Drama encourages you to build your creativity, critical thinking, collaboration and communication skills through staging dramatic texts. During the production period and through various practical group works, Drama helps you gain essential transferable skills such as working under pressure, time management, team-working, organising, and problem-solving skills.
Our graduates work across the creative industries in areas such as television, theatre, publicity, events, and publishing. Some have gone on to be presentation directors, content writers, content and publication editors, theatre producers, teachers and lecturers – Drama graduates who have completed conjoints with Laws or Commerce work as lawyers and investment bankers.

Explore your study options in Drama