Geology covers a diverse range of geoscience subject matter that govern the Earth's surface and interior, and sustainable interactions between society and the Earth.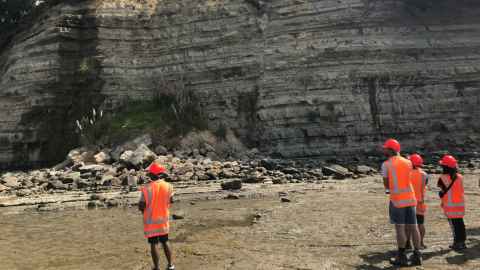 Subject overview
Geology is critical to shaping a sustainable future for our planet and a circular economy. This includes fundamental geoscience disciplines, igneous, metamorphic and sedimentary origins of rocks and mineral-forming processes; volcanology, tectonics and structural deformation; engineering geology, environmental change, natural hazards; the sustainable management of natural resources that are facilitating the global energy transition and "green" technology innovations.
There is a strong emphasis on skills development and the application of your knowledge in the real world. This is through practical learning in laboratories as well as fieldwork that includes site visits for field sampling and testing, as well as equipment installation and application.
You'll gain an internationally accepted qualification, excellent research skills and the knowledge to work in many exciting fields. The Auckland region provides an impressive natural laboratory, and our array of field equipment and analytical facilities supports research activities on land, in the air, and over water.

Where can Geology take you?
Geologists are in demand globally. From meeting challenges associated with sustaining energy supplies and new infrastructure development, to developing low-carbon economies, and understanding, and mitigating against changing climates, there are many exciting opportunities available.
Graduates work within environmental management, land development, engineering geological ground investigations, natural hazards monitoring, management and mitigation, as well as sustainable mineral exploration and extraction, and groundwater management.
Geology graduates can build successful career pathways and become Chartered Geologists (CGeol) or Chartered Members of Engineering New Zealand (CMEngNZ) as Professional Engineering Geologists, for example.

Explore your study options in Geology