Undergraduate study in Health Education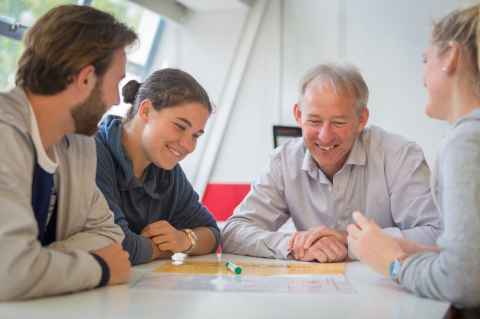 What can you study in Health Education?
This degree is your opportunity to become a leader in the exciting worlds of sport, health and physical education. The programme is flexible in design, so you can choose from a range of courses across different disciplines to create your own unique pathway that complements your interests and career aspirations. Pathways to explore include Sport Leadership and Coaching, Health Education and Promotion, Health and Physical Education, Sport Science, and Dance.

Structuring your degree in Health Education
The Bachelor of Sport, Health and Physical Education allows you to tailor your courses to fit your interests.
In total you need 360 points (or 24 courses worth 15 points each) to pass the degree. Seven of those courses need to be at Stage II or higher, and at least five at Stage III.
Here's what you need to study:
You can choose your elective courses to follow one of five pathways outlined below. Or if you'd prefer not to specialise, you can chose a mixture of courses from any of the pathways or the general elective courses.
Specialised pathways
Health Education and Health Promotion
HEALTHED 101 Food and Education
HEALTHED 201 Child and Youth Health Education
HEALTHED 202 Sexuality, Education and Society
HEALTHED 302 Leading Health Promotion in Schools
SPORTHPE 303 Health, Fitness and Culture
POPHLTH 203 Health Promotion, Philosophy and Practice
POPHLTH206 Life Cycle Nutrition
DISABLTY 316 Supporting Active Participation
School Health and Physical Education
PHYSED 101 Games and Sport Education
PHYSED 102 Alternative Sport and Play
PHYSED 103 Outdoor Education 1
PHYSED 104 Aquatics and Water Safety
PHYSED 203 Outdoor Education 2
SPORTHPE 301 School Health and Physical Education
SPORTHPE 303 Health, Fitness and Culture
Sport Coaching and Leadership 
SPORT101 Making a Difference in Sport
SPORT203 Sport, Media and Marketing
SPORT 304 Sport Psychology and Coaching
SPORTHPE 303 Health, Fitness and Culture
Sport Science
EXERSCI 101 Foundations of Exercise Science and Sport
EXERSCI 105 Exercise Prescription
EXERSCI 201 Exercise Physiology
EXERSCI 202 Principles of Tissue Adaptation
EXERSCI 206 Exercise Nutrition
EXERSCI 301 Exercise Physiology 2
SPORTHPE 303 Health, Fitness and Culture
SPORT 304 Sport Psychology and Coaching
Dance
DANCE 101 Introduction to Dance and Creative Processes
DANCE 210 Contemporary Dance and Choreography 2  
DANCE 310  Contemporary Dance and Choreography 3
DANCE 331 Dance Education Research
SPORTHPE 303 Health, Fitness and Culture

Scholarships and awards
Help and advice