Law covers a diverse range of subjects included in the compulsory and elective courses that make up the Bachelor of Laws. Rather than specialising at an undergraduate level, students undertake compulsory Law courses to gain a broad understanding of the law, with electives available in the final year of their degree.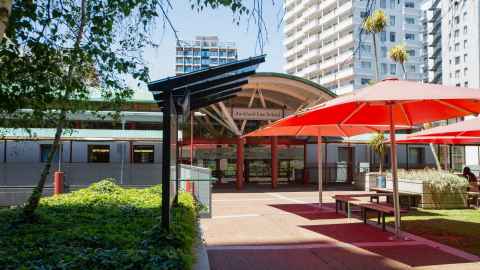 Subject overview
Auckland Law School is the top-ranked Law school in Aotearoa New Zealand and one of the best in the world (QS World University Rankings by Subject 2021). When you embark on a Law degree you will develop analytical, communication and research skills. You will also build your understanding of legal ethics, professional responsibility and the role that law plays in society.
Here are our Law subjects. 
Contract*, Torts*, Equity* and Private Law
Private Law encompasses legal doctrines and rules that govern relationships between private individuals.
Contract, Torts, Equity and Private Law cover doctrinal analysis, policy debate and theoretical foundations of the law of private obligations.
Criminal Law* and Justice*
Auckland Law School offers a range of courses on criminal law, criminal procedure and diverse areas of criminal justice. As New Zealand's leading law school in these fields, the programme is taught by a highly experienced group of nationally and internationally recognised academics.
Auckland Law School teachers are frequent media commentators on crime and justice issues, work with government agencies to shape New Zealand law, provide continuing education to the legal profession, and have their research cited in judicial decisions at all levels of New Zealand courts. The team has particular expertise in alternative forms of justice, restorative justice, indigenous rights, family violence, miscarriages of justice, evidence, police powers, the New Zealand Bill of Rights, youth justice and mental health.
Land* and Environmental Law
Land Law is a core discipline in the common law, with a number of elective and postgraduate courses offered in the area.
The Law School is also home to the New Zealand Centre for Environmental Law, which includes members from the Law School and the School of Planning and Architecture, as well as academics from other New Zealand and overseas Universities.
Constitutional, Administrative and Other Public* Law
Public Law research and teaching ranges across the full gamut of public law scholarship. It covers both traditional constitutional and administrative law and specialist fields such as local government, health, mental health, immigration and refugee law.
Pre Covid-19, the Law School regularly attracted visits by leading international public law scholars and has hosted several conferences on aspects of public law, often in conjunction with the Legal Research Foundation. 

Corporate and Commercial Law
Commercial Law offers a wide range of electives, while the Law School is also home to the New Zealand Centre for Law and Business. The Centre aims primarily to facilitate interdisciplinary research connecting law and business.
Courses are taught by a combination of the Law School's permanent staff, staff of the Department of Commercial Law in the Faculty of Business and Economics, distinguished overseas academics and senior law practitioners.

Māori, Pacific and Indigenous Law
The School has extensive expertise in the law as it relates to Māori, Pacific and Indigenous peoples, including constitutional law, criminal justice, land, human rights, comparative jurisdictions and social and economic issues.
The Law School is home to the Aotearoa New Zealand Centre for Indigenous Peoples and the Law, which grew out of the Nin Tomas Indigenous Peoples and the Law Group. The Centre contributes to local and international policy on Indigenous rights and collaborates with Māori, Pacific, the UN and other international movements for the advancement of Indigenous rights.

International and Comparative Law
Courses in International and Comparative Law set New Zealand law in global context and examine the many challenges in international legal relations today. The Law School runs an exciting and dynamic international and comparative law programme.
Specialisations range from international economic, environmental, disarmament and health law, and law of the sea, to human rights, indigenous peoples' rights, taxation and private law areas.  Approximately a quarter of our academics teach, research and supervise in areas of international and comparative law.

Legal History and Theory*
Legal History is of particular importance for understanding New Zealand law, with our legal system emerging from English common law's peculiar institutions, categories and doctrines. Legal Theory provides a framework for reflection on law from multiple perspectives that promise a deeper understanding.
Many of the academics in the  Law School are engaged in legal research that is theoretically and historically informed. Our wide range of courses in Legal History and Theory allow us to share these important perspectives on law as part of the faculty's commitment to excellence in legal education.

Litigation, Dispute Resolution, Family and Relationships Law
The Law School offers a strong portfolio of teaching and research in litigation, dispute resolution, family and relationships law and policy. Our courses aim to equip our students with both the doctrinal knowledge and the clinical skills necessary to be effective advocates in whichever context they choose to practice.
Complementing these areas of teaching, the Law School has a vibrant mooting programme across all levels of the degree.

*Compulsory core subjects
Where can Law take you?
A Law degree will arm you with many transferable skills, including knowledge of the law and its implications, a sense of justice and public responsibility, analytical, research and communication skills, and an ability to work under pressure. A degree from the University of Auckland Law School is well-respected.
In any given year, about half our graduates take up positions in New Zealand law firms, while the other half begin their careers in other professional organisations. These include accounting and consulting; business and industry; national and local government; teaching, research and journalism; and international, environmental and other non-governmental areas. Our graduates can be found practising law in New Zealand and worldwide – many of our former students work for leading law firms in London, New York, Sydney, Hong Kong, Singapore, and other major cities.
Some of our top students go on to enrol in our LLM, MTaxS and PhD degrees. Auckland Law School offers the most extensive postgraduate programme in the country. Our students regularly win scholarships and prizes to continue their studies overseas. Some of our recent graduates are now pursuing higher degrees at Oxford, Cambridge, Harvard, Yale, Columbia, and other top overseas universities.
Explore your study options in Law