Medical Devices and Technologies
This specialisation broadly spans engineering, medical and health sciences, business, and innovation disciplines.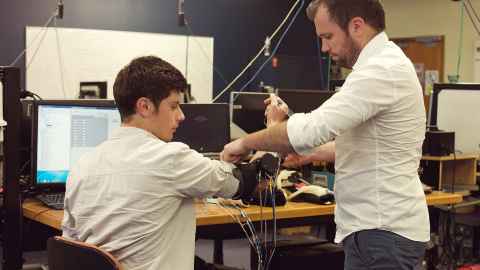 Subject overview
The global medical devices industry is growing rapidly, and increasingly involves a fusion of biomedical and materials sciences. This demands knowledge in both engineering and manufacturing. Our Medical Devices and Technologies programme is a response to this demand.
Aimed primarily at engineers and health professionals, the Master of Engineering Studies specialising in Medical Devices and Technologies provides a broad range of fundamental technical knowledge, overviews of the devices and needs in medical environments, along with essential skills in medical practices, regulatory processes, product development and innovation. You'll also gain insights into future opportunities in the field, and can expect to get involved in in-depth discussions about solutions that fill the gaps between medical and engineering practice.
This programme is the outcome of a Tertiary Education Commission of New Zealand-funded collaboration between our University's Faculty of Engineering, Faculty of Medical and Health Sciences, and the Medical Technology Association of New Zealand, so you'll have the chance to draw expertise from a range of sources. We also boast close relationships with local companies such as Fisher & Paykel Healthcare.
Where can studying Medical Devices and Technologies take you?
New Zealand alone is home to over 130 medical device companies, many of which currently employ our graduates, though the skillsets offered by our programme may open up new opportunities worldwide. We aim to equip our graduates with the necessary technical, medical, ethical, regulatory and business knowledge required to contribute to industry. Through practical and theoretical training, talented students tend to be ready not just to fulfil a skill demand in the domestic and global medical devices industry, but also to improve, innovate and push the boundaries of what's currently available.
Explore your study options in Medical Devices and Technologies