The Music Studies specialisation covers a wide range of sub-disciplines, including music production, music education, musicology and ensemble direction.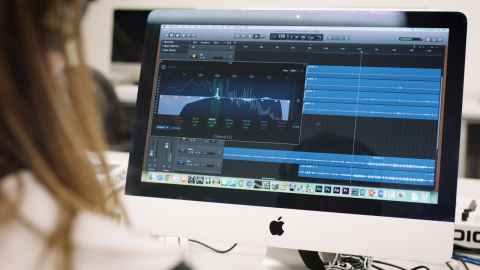 Subject overview
The Music Studies specialisation provides you with a rich variety of courses in a range of disciplines:
Music Production includes a range of specialist courses. These cover topics such as arrangement, pre-production, industry-standard recording and audio engineering techniques, professional mixing and mastering, music theory, history and industry studies, as well as live sound, sound design for film, video game and virtual reality. Find out more about Music Production.
The learning, community and engagement courses prepare students for careers in music education and audience development.
Learn more about music's place in the world as you focus on musicology. You will develop your understanding, writing, teaching and learning, critical thinking and analytical skills to prepare you for a wide range of careers.
The school's offerings in ensemble direction further support students' aspirations for careers in community music making and pedagogy.
Where can the Music Studies specialisation take you?
The wide range of study options available in this specialisation and its sub-disciplines provide graduates with many exciting career pathways or portfolio careers. This can vary from the academic study of music and music-related subjects to hands-on professions such as music production, teaching or ensemble direction.
Explore your study options in Music Studies