Undergraduate study in Music Studies
What can you study in the Music Studies specialisation?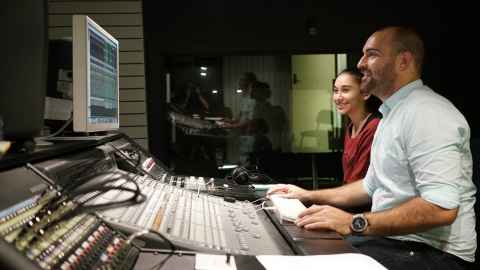 Music Production
Learn the science and art of Music Production and Audio Engineering at New Zealand's largest and most comprehensive Music School. The School of Music offers undergraduate and postgraduate qualifications taught by respected industry professionals, across a wide range of genres and disciplines, utilising world-class facilities and equipment.
Music Production is the art of using the recording studio as a musical instrument in its own right, employing the associated skills, techniques, and equipment. The discipline is wide-ranging and incorporates practical, theoretical, technical, creative, and professional skills.
A range of specialist courses cover topics such as arrangement, pre-production, industry-standard recording and audio engineering techniques, professional mixing and mastering, music theory, history and industry studies, as well as live sound, sound design for film, video game and virtual reality.
Alongside these courses you will find options for parallel study in any of the School's other specialisations (Classical, Composition, Jazz, Popular Music), as well as extensive collaboration with staff and fellow students in these areas.
The School has strong connections with top recording studios and industry professionals. As a result, students gain access to significant professional networks and opportunities, utilising highly relevant skills and techniques.
Our facilities are excellent and include multiple recording studios and computer labs, equipped with cutting-edge professional equipment. High-end microphones (Neumann, Coles, Schoeps, DPA etc), recording equipment (Neve, API, Universal Audio, Apogee), recording instruments, and DAWs equipped with extensive professional software and vast third-party plugin libraries.
In your Music Studies specialisation you will also take two General Education courses offered by other faculties from across the University.
Entry requirements for Music Studies
You must meet the entry requirements for a Bachelor of Music, detailed on the BMus programme page.
Conjoints
You may choose to combine your BMus with another discipline. Find out more about our conjoint degree options:
Structuring your undergraduate programme
Comprises:
4 x core Stage 1 courses
3 x specialised theory and musicianship courses
4 x elective courses
2 x General Education courses
7 x Stage 2/3 portfolio courses in
            -Musicology
            -Learning, Community and Engagement
            -Technology and Production
            -Ensemble Direction and Conducting
May also include courses in performances studies.
Bachelor of Music – Music Studies degree requirements:
120 points from: MUS 104, 106, 130, 143, 145, 162, 243, 343
45 points from: MUS 203–205 (Classical Theory), or MUS 174, 274, 275 (Jazz Theory), or MUS 284, 287, 288 (Popular Music Theory)
105 points from: MUS 206, 207, 230, 231, 245, 248, 262, 265, 276, 306, 307, 330, 334, 340, 345, 348, 362, 365, 367, 376, 387, 389, and up to 45 points from MUS 190 - 197, 290–297, 390–397
30 points from: MUS 103–397
30 points from: ANTHRO 103, 106, 202, 217, 234, 301, 327, 329, 357, MAORI 190, MUS 103–397, PACIFIC 110
30 points of General Education
Courses
Browse a list of courses available within the Bachelor of Music, including those for Music Studies:
Help and advice