Explore your options in performance and music studies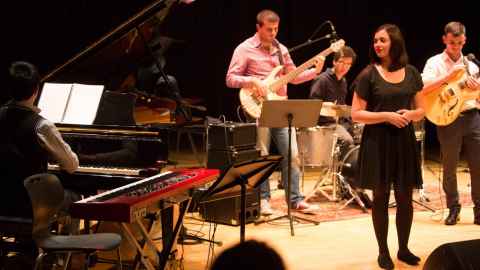 Subject overview
Within Music, you can study performance and hone your musical skills. Learn from some of the finest instrument teachers in the country. You can learn about music technology, gain an insight into the music industry and understand the relationship between music and the wider community. You will learn how to write about music and analyse different strategies of music education.
You also have the opportunity to participate in the University's choir or orchestra during your studies.
Where can Music take you?
The music industry runs on more than performers and composers. Behind the music there are people with an in-depth knowledge of artistic demands and industry standards. Our graduates have found careers in performance, education, broadcasting, journalism and academia.
Explore your study options in Music
At the University, there are two avenues for studying Music:
The School of Music offers a comprehensive musical education for aspiring musicians and composers. You can explore the sociocultural aspects of Music within a Bachelor of Arts. 
If you're interested in studying all aspects of Music and Performance, the following subjects are available: