Creative Practice: Classical
The Creative Practice: Classical specialisation offers individual and ensemble courses for all keyboard and orchestral instruments, guitar and voice.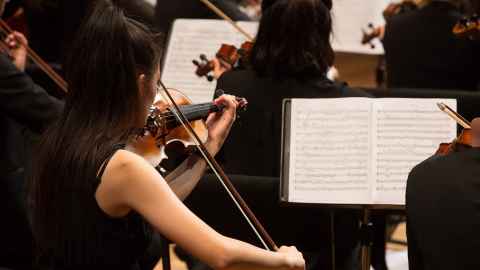 Subject overview
Besides one-to-one tuition, you will be encouraged to extend your practical performance experience through participation in chamber music and a rich variety of ensembles, including brass and woodwind groups, the School's renowned Chamber Choir, chamber and symphony orchestras and the School's Collegium Musicum, a historical performance ensemble.
Auxiliary performance courses are open to all School of Music students, enabling them to pursue performance lessons while studying towards another specialisation, or providing opportunities for studies in a second instrument, voice or learning a baroque instrument.
Besides providing performance opportunities such as our Friday Lunchtime Concerts series, we pride ourselves in our close relationship with the Auckland Philharmonia Orchestra (APO). Not only are many of the APO's members instrumental teachers at the School, but every year many of the orchestra's visiting soloists give masterclasses at the University. Our students also have opportunities for mentored internships and solo appearances with the APO.
The flexible structure of our Bachelor of Music degree allows you to combine your performance training with courses in music technology, pedagogy, composition or music studies.
We understand that decisions about where to study music are often based upon availability of specific teachers. See our performance teachers' biographies by discipline.
You are invited to contact individual teachers directly with any queries you may have. If your desired instrument is not listed please contact us.
Where can Creative Practice: Classical take you?
Depending on your choice of courses, our Creative Practice: Classical specialisation prepares you for a career as a performer and/or educator, as well as many music-related professions.
Explore your study options in Creative Practice: Classical