Your studies in the Creative Practice: Jazz specialisation centre around improvisational-based music.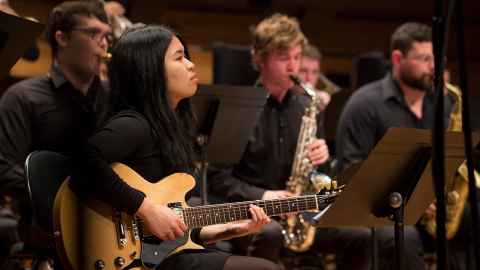 Subject overview
With a focus on improvisational methods through memory, transcription and analysis, you will advance your instrumental proficiency, and deepen your knowledge of jazz history and theory to provide a well-rounded knowledge of the genre.
The opportunities to perform in recitals and concerts act not only as assessment tools, but preparatory gigs as students develop the skills required to perform as both band leader and band member. Collaborations are a major part of the jazz community, and these are actively fostered within our programme. School of Music students of the jazz, classical and popular music specialisations enjoy opportunities to work together and learn from each other's practice.
Our Jazz specialisation is taught by some of New Zealand's leading figures in the field. Staff are well connected in the industry locally and internationally, and these connections provide exciting learning and performance opportunities for students. Through collectives such as Creative Jazz Club Aotearoa, students have the chance to share the stage with their teachers and visiting musicians, performing both original works and music from the jazz repertoire.
We understand that decisions about where to study music are often based upon availability of specific teachers. See our jazz staff biographies.
You are invited to contact staff directly with any queries you may have.
Where can Creative Practice: Jazz take you?
Performing is often the main career choice for our graduates; however, many supplement a successful playing career with roles in teaching, composing, arts administration or management, or academic research.
Explore your study options in Jazz Performance