Nursing has changed over the years and integrated care settings offer a varied and rewarding career where you can make a difference.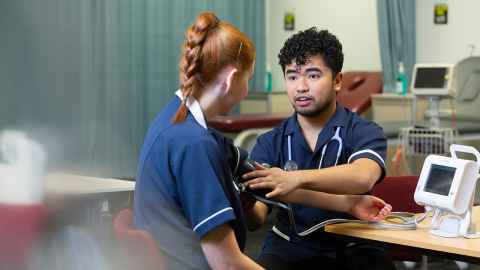 Subject overview
If you are someone with empathy, good communication skills and a desire to help people and achieve good outcomes, Nursing is the ideal career for you.
Nursing has changed over the years. In today's world nursing has become a critical patient-focused health science career that requires a sophisticated mix of expertise, knowledge, skills and nursing judgement.
Modern healthcare is now focused on integrated care, where teams of health professionals work together to provide the best treatment possible for their patient so it is important that tomorrow's nurses are able to work within that environment.
Nursing offers variety and also good career progression. If you are wanting to begin a career in nursing, you must first complete your undergraduate study.
Once you have completed your that study, there are opportunities to advance your career through further postgraduate study.
With an ageing and increasing population in New Zealand, there is a rising demand for trained nurses, particularly in primary care, aged care and mental health settings.  
Where can Nursing take you?
Nursing offers exciting opportunities for career advancement in a wide variety of clinical contexts..
The Bachelor of Nursing programme prepares new nurses for the profession while the Master of Nursing programme prepares graduate nurses for positions as clinical specialists and nurse practitioners.
Potential careers include advanced nursing practice, community, gerontology, paediatric, hospital, primary healthcare, mental health, or nursing education, management or research.
Explore your study options in Nursing