Optometry and Vision Science
Optometry and Vision Science is the study of optometry coupled with a strong foundation in health science to embrace the expanding role of optometry to the community.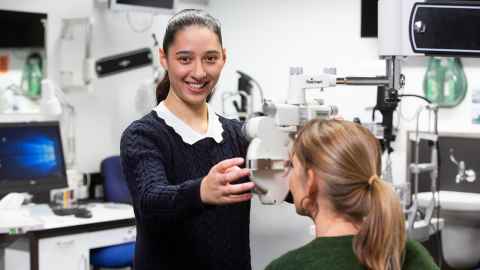 Subject overview
Optometrists play a crucial role in primary health care, examining the population's eyes and diagnosing vision problems including minor eye infections and providing treatment.
While the study of optometry has a professional focus, we also provide you with a strong foundation in basic and health science. These skills will enable you to keep up with the expanding role of optometry in providing lifelong eye health and vision care to the community.
A particular strength of our programme is its emphasis on inter-professional engagement using our links with allied clinical disciplines such as pharmacy and ophthalmology.
Our students undertake extensive 'work-integrated' learning in private practice, hospital clinics and through our student-led vision screening programme in Greater Auckland schools.
Undergraduate study will prepare you for registration as an Optometrist, and  you'll be equipped to diagnose visual problems or impairments, advise on the prevention of vision loss, prescribe and provide treatment. You can be accredited as a registered optometrist, able to diagnose and treat eye diseases in New Zealand and Australia.
Studying at postgraduate level will allow you to broaden your skills and pursue your interests in the field with opportunities provided for self-directed research.
The School of Optometry and Vision Science occupies modern space at out Grafton Campus (overlooking the Auckland Domain), incorporating its own Eye Clinic, teaching laboratories (including a virtual reality simulation suite) and state-of-the-art research facilities.
Where can Optometry and Vision Science take you?
Students considering optometry as a career should possess a genuine desire to help people. Optometry offers the opportunity to join a profession that is both personally challenging and financially rewarding.
The majority of optometrists enter private practice. This offers favourable working conditions, the freedom to choose where to live and practise, and the opportunity to concentrate on clinical areas of particular interest.
Optometrists may also practise in hospitals and clinics, or pursue careers in research and in the industry. Opportunities also exist for those wishing to undertake postgraduate education, research and teaching, not only in New Zealand but also at overseas universities.
Explore your study options in Optometry and Vision Science