Software Engineering combines computer science, engineering and mathematics to design, develop and test the integral foundations of today's technology.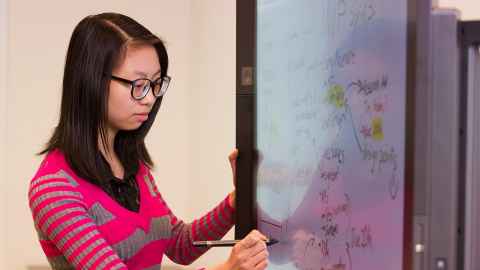 Subject overview
Software Engineering is behind many of the technologies we now take for granted. It is seen in virtually all sectors of today's economy, from handheld smart devices to cloud services and large telecommunications networks. Offered by our Department of Electrical, Computer, and Software Engineering, the specialisation covers software architecture, system performance, testing and quality assurance, requirements engineering, human-computer interaction, and documentation. Because it is largely project-oriented, software engineers also familiarise themselves with the ethical, social, legal, economical and safety issues relevant to users today.
As a result, software engineers often see their core skills as complementary to their personal interests, and demand for professionals in this field will continue to increase alongside the need to create and improve products for today's technologically-savvy environments and users.
Where can Software Engineering take you?
The importance of software engineering to the modern economy means that there is a bright future ahead for graduates. This is evident in the increasing reliance on intuitive and dependable cloud-based software. This high-demand specialisation boasts benefits such as a future-proof skill set and, consequently, ample salaries. Software engineers are employed in a wide range of sectors, including ICT, commerce, industry, government, health, education and entertainment. Software engineers also find opportunities in dedicated consultancy firms, so their work often extends beyond programming: they are involved in designing solutions, financial discussions and even directing teams. Management positions are not out of reach for software engineers, due to their understanding of project management principles.
Explore your study options in Software Engineering