Urban Design focuses on the design of the spaces between buildings to create better neighbourhoods and cities.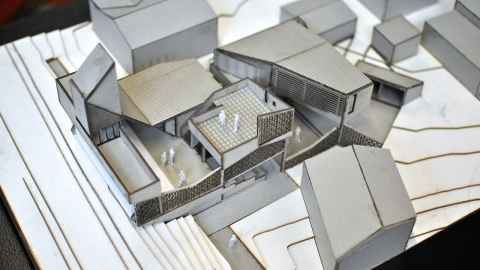 Subject overview
As our urban areas grow, their design and functionalities are increasingly important.
Urban Design allows built environment professionals the opportunity to identify and respond to challenges in the existing and proposed urban environment and to improve them through the design of interventions and enhancements. Through studio-based projects, you will analyse the built, ecological, social, cultural and economic facets of cities, and propose design outcomes that best address the specific needs of the area.
Urban Design is housed in the School of Architecture and Planning, which is New Zealand's leading tertiary educator in the architecture/built environment field*. Your research will be supported by staff with significant experience in urban design research and practice.
*QS World Rankings by Subject 2021
Where can Urban Design take you?
With in-depth knowledge of urban design theory and practice, you will have the skills, knowledge and conceptual understanding to work in both public and private practice. As existing cities expand, and new developments emerge, those with urban design knowledge are required to contribute to the planning, analysis, consent, engagement and design processes. You may choose to further specialise in areas such as transport or sustainable design.
What can you study in Urban Design?
Through a series of case studies and individual research projects, you will investigate key themes in the design and analysis of the built environment:
Design proposals for whole urban areas and neighbourhoods
Contemporary urban design theory
Urban analysis
Local and international practices
Pacific urbanism
Urban development processes
Urban Design is available at masters level, either as a standalone qualification or as part of one of our combined masters degrees.
Study options
Our programmes:
Help and advice