Samantha enjoys getting a taste of different subjects with Global Studies.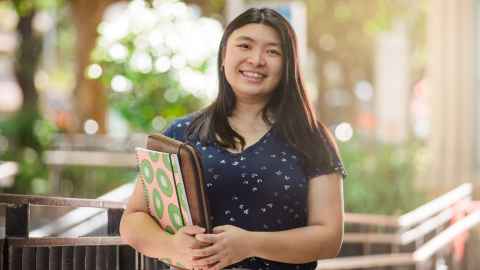 Key facts
Programme: Bachelor of Global Studies / Bachelor of Arts conjoint
Majors: Transnational Cultures and Creative Practices / Linguistics
"I was always interested in cultural issues and transnational relations because it reflects on my own life experiences. My mum is from Hong Kong and my dad is from South Africa. The rest of my family is spread all over the world, in Canada, Australia, Mauritius etc. Although I've lived most of my life in Auckland, my family travels extensively and we have quite a multicultural background. I think this has strongly impacted my vision of the world and contributed to why I was drawn to Global Studies.
"I chose Transnational Cultures and Creative Practices because the courses aligned with all my interests. I had no idea what pathway I wanted to take or what career I wanted to pursue, but all of the courses made me feel excited about studying. I loved how I could get a taste of different subjects.
"It's so hard to pin down what I am enjoying the most, because I am enjoying everything so far! I love how there are so many interesting courses and opportunities available. For example, for one of my courses last year, we got to interview the EU Ambassador and a representative from MFAT.
Our courses expand my knowledge of the world, not only about topics I never knew about, but also about my own identity, experiences, and perspectives.
"I love Global Studies' transdisciplinarity because it allows me to branch out into various areas of study. I really enjoy how this degree pushes us to be well-rounded students and prepares us to be aware of our own positionality to become better global citizens.
"I think Global Studies prepares us well for careers because our future is going to be global. Our world is becoming increasingly globally interconnected in all aspects such as business, environment, politics and culture.
"I am a member of Nomad Journal and the Linguistics and Languages Society. I am a founding member of Nomad, as creating a journal that would showcase the academic works of Global Studies students really resonated with me. I felt like it would make a great impact in bringing our Global Studies community closer.
"I chose to study at the University of Auckland because of the Global Studies degree and because of the 360 International programme. I always knew I wanted to end up overseas, but I needed a steppingstone first, because I just was not ready to leave immediately after high school. I like how the 360 programme allows us to go on exchanges and study abroad programmes. I was set to go to the Netherlands on an exchange in 2020, but Covid-19 changed my plans. However, 360 offers great virtual programmes and I am currently doing the Reimagining India Virtual Study Tour programme.
"I love being a student at the University of Auckland. It's easy to make friends with my classmates and I also really love how all the lecturers are approachable and they genuinely care about their students. I wish I could fit more courses into my degree because there are still more I want to take!
"I am currently interested in careers related to cultural diplomacy, research, or linguistics. I think Global Studies has really helped prepare me to be ready for interesting opportunities to come. Flexibility is key especially during this time, and my degree has given me valuable skills that I could mould into various paths.
"You don't need to have a set goal in mind or a clear career pathway. Even if you change your mind along the way, that is perfectly fine! Just focus on gaining skills and following your interests and passions, then opportunities for those passions will come. I highly recommend staying open-minded and trying new things because you never know, it might change your life!"